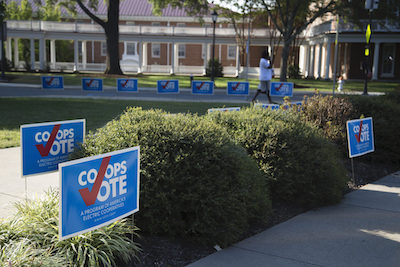 Co-ops Vote is hoping to amplify the voice of rural America by registering as many co-op community members to vote as possible on National Voter Registration Day on Sept. 24.
The nonpartisan group, a project of America's electric cooperatives, is one of 45 companies and organizations that are partnering to help people update their registration or register for the first time. Other "premier partners" include tech giants Facebook, Google and Twitter.
"They look to us as a way to reach the rural communities," said Laura Vogel, NRECA's senior adviser on political affairs.
So far, 22 co-ops have signed up to participate in the national registration drive, and Vogel said she is hoping to raise the total to 30. That would be a slight increase over last year, when 28 co-ops helped register their local voters. NRECA staff will also help register voters this year in Arlington, Virginia, and Lincoln, Nebraska.
The 2018 election year was the first time Co-ops Vote participated in National Voter Registration Day. That year, organizers of the nonpartisan event said they registered more than 800,000 voters—the highest number since the program began in 2012. This year, the goal is a more modest 200,000 voters, with state and local contests in play but no congressional elections. The target will rise to 1 million voters in 2020 due to the presidential election, Vogel said.
"It's our civic duty to vote," she said. "It's really important to do what you can, especially when you have a vision of what you want the future of our country to be."
It's especially critical that rural voices are heard so that the needs of rural communities will be addressed by lawmakers, said Yajaira Bess, public relations and grassroots specialist at Berkeley Electric Cooperative in Moncks Corner, South Carolina.
"If we can get them all out to vote, I know a difference can be made," Bess said.
For the second consecutive year, Berkeley EC plans to register voters at its four district offices. Bess said each office will have balloon-decorated tables manned with two co-op employees to help consumer-members fill out their paperwork. Cookies and candy will be available for children.
"We want to make it a fun day," she said. "Members sometimes have a negative reaction when we first ask them if they want to register. They think we're trying to tell them how to vote. But when we explain that it's nonpartisan and we just want to help them be heard, we can sense their relief. They'll open up and say, 'OK, we're on board.'"
The co-op is going ahead with its plans for the event despite being hit hard earlier this month by Hurricane Dorian.
"A newer generation is coming in and they need to be informed and educated and know how important it is to go out and vote," Bess said. "I just felt we had to go ahead and do this."
NRECA is also tapping into the younger generation of co-op members to boost voter registration efforts. High school students who serve on the NRECA Youth Leadership Council will act as Co-ops Vote ambassadors for the first time this year, said Beth Knudson, NRECA's manager of youth programs and training. Students who work with their local co-ops to host a registration event can earn "international pop star" status in a friendly competition among YLC members, she said.
"There is such a need for advocates of rural America, why not start with these kids?" Knudson said. "They want to help. They're always asking, 'What can we do?'"
Between elections, it's important for co-ops to hold events that allow their members to meet and hear from elected officials, said Stephanie Okuniewski, public affairs and member services specialist at Pennsylvania Rural Electric Association. She said the Pennsylvania REA invites all 200-plus members of the state legislature to talk to co-op members.
"Being nonpartisan draws more people in," she said during a panel discussion at the recent NRECA regional meeting in Buffalo, New York. "Our members know they can come to us and learn about issues at face value."