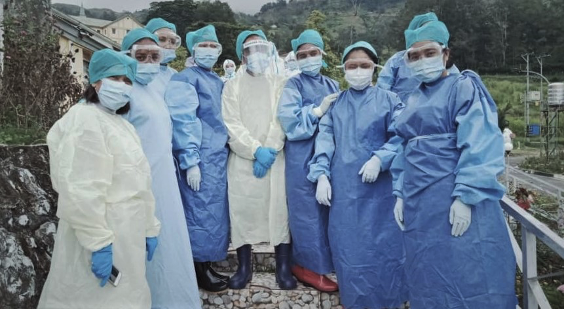 In 1994, the U.S. Agency for International Development (USAID) funded an effort by NCBA CLUSA to organize 450 coffee farmers into a co-op called Cooperatíva Café Timor (CCT), launching the commercial coffee industry in East Timor.
More than 20 years later, coffee is now the small Southeast Asian country's top agricultural export with a value of about $12 million a year. Today, CCT not only exports coffee, but has also added high-value spices and other crops to its lineup. The co-op also runs a string of health clinics that provide services to its 26,700 small-holder farmer-members, their families and communities.
For millions of people around the world, the COVID-19 pandemic has wreaked havoc on their businesses, communities and families. This is especially true for small-holder farm families in developing nations around the world where the state of their economic future is directly linked to the exporting of the crops they grow.
Cooperativa Café Timor (CCT) is a large agricultural cooperative in Timor Leste. The cooperative is wholly Timorese-owned and managed, created to directly benefit its membership of 26,700 small-holder farmer families. CCT is focused on the export of organic and Fairtrade certified Arabica coffee with an increasing diversification into cocoa, vanilla and other spice exports.
2020 was a challenging year for CCT, but it has successfully navigated its way through the COVID-19 pandemic despite the country of Timor Leste restricting travel and remaining isolated from the rest of the world. As the country was faced with increasing economic hardship and a rise in unemployment due to the COVID-19 pandemic, fortunately and with a great amount of preventative precautions, CCT was able to fully operate during the 2020 harvest season.
To successfully operate in the COVID environment, CCT quickly assessed and mitigated these new risks and developed strict COVID protocols as advised by government and industry experts. By leveraging the expertise and infrastructure of CCT's existing health services, CCT rapidly implemented these protocols throughout its supply chain and facilities.
As a no-fee benefit to rural farming communities, CCT also offers primary health and social development services from its eight fixed health clinics, three mobile clinic teams and village-level extension services. By late March, using a range of village-level education activities, farmer families were already receiving COVID related information from CCT's health services.  These extension activities include broadcasting messages throughout villages from CCT vehicles using newly acquired roof-mounted loud-speaker systems.  Health extension teams on motorbikes travelled to local coffee farmer villages and disseminated basic information to reduce anxiety and offer simple practical prevention techniques. Within clinics, CCT implemented stricter infection control protocols, PPE for staff, and increased the volumes of local medicines and supplies to counter any potential disruption to drug supply chains. CCT's fixed and mobile clinics remained open for all patients during the entirety of 2020 with an average 11,000 patients treated each month.
CCT's health service, also assisted through funding from the New Zealand Government and Fair-Trade Premium proceeds, lead the implementation, monitoring and enforcement of COVID-19 protocols for all staff in all CCT factories, mills and facilities. This included staff training, installation of handwashing facilities at the entrance of all CCT facilities, the enforced use of face masks and social distancing when inside any CCT facilities.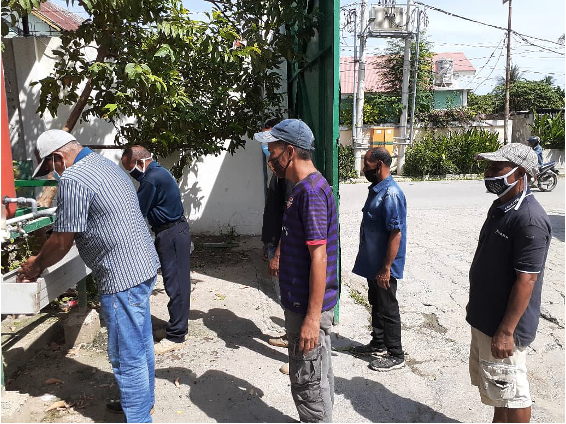 To reduce risk to CCT staff and farmers when buying coffee cherries (unprocessed coffee fruit), the usual practice of direct roadside buying and transportion by CCT staff was reassessed.  For the 2020 harvest, CCT revised its purchasing methodologies to minimize contact and exposure between farmers and employees.  The revised system also resulted in greater efficiency, increased employment opportunities, and lower transmission risk.  The individuals involved all received COVID-19 prevention training from CCT and were required to wash their hands and limit personnel numbers when delivering coffee cherries to CCT.  Due to its success in prevention and its boost to efficiency, this procurement system for red coffee cherry will continue well into the future for subsequent coffee harvests.
Despite the overwhelming obstacles presented by the pandemic, CCT produced a higher than expected volume and quality for its 2020 exported coffee. They insured the harvest by providing direct monetary support to its co-op farmers through the local purchase of their harvests.  With the advantage of in-country Timorese management and staff and the early development and implementation of COVID operational protocols, CCT purchased a higher than expected 13,900 tonnes of red coffee cherry from Fair Trade and Organically certified farmers. This coffee was processed in-country into a total of 2,130 tonnes of grade 1 green coffee bean thus far and exported to Canada, USA, Australia, China and New Zealand.
Looking forward, CCT will play a critical role in its farmer communities as it joins with the Government of Timor Leste in the expected rollout of COVID-19 vaccinations.  CCT's health service is prepared to fully respond, as it currently delivers and supports the National Children's Immunization program and has previously participated in national mass immunization campaigns.
Despite economic downturns, adverse climate events, political uncertainty with severe social unrest and violence and now a worldwide pandemic, for more than 20 years, CCT has been in the field buying coffee and supporting their co-op member-owner farmers and their communities. Their farmers are the cooperative, giving them direct control over its policies and practices and a voice that will ensure its resilience for future generations.