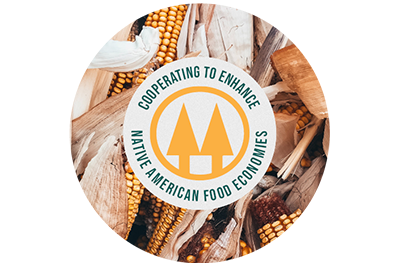 Canadian First Nations members are successfully utilizing cooperatives to sustain rural communities and traditional ways of life. The Canadian experience incorporates access to culturally appropriate cooperative development, high quality university research, and a federated cooperative structure serving native and non-native producers and consumers. Learn more about how the Canadian experience offers a road map for cooperative development in Native American communities at "Cooperating to Enhance Native American Food Economies" in August. 
This webinar series will discuss the role of cooperatives in harnessing Indian Country's economic and nutritional potential to recover from COVID-19 and propel sustainable rural economic development. The Native American Agriculture Fund  (NAAF) published its vision for Native American agriculture in  Reimagining Native Food Economies: A Vision for Native Food and Agriculture Infrastructure Rebuilding and Recovery.    
This week, we're highlighting three speakers who represent the Canadian First Nation's experience.
Trista Pewapisconias, Indigenous Relations Lead at Co-operatives First, will present "Making a Cooperative Vision Real: Cooperatives in First Nation's Canada" on August 2 at 1:15 pm; Dr. Murry Fulton, Director and Professor in the Johnson Shoyama Graduate School of Public Policy at the University of Saskatchewan, Saskatoon, is part of "The Promise of Cooperatives in Creating Sustainable Food Systems" on August 2 at 12:20 pm; and Duane Wilson, Vice President of Stakeholder Relations at Arctic Co-operatives Limited, is part of "Meeting Community Needs: Cooperatives in Action" on August 5 at 12:20 pm.
Learn more about these speakers in the spotlights below.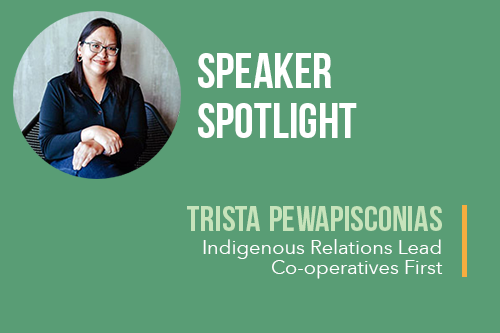 Trista Pewapisconias is a member of the Little Pine First Nation in Saskatchewan and Indigenous Relations Lead for Co-operatives First, an organization that supports co-op startups and grows rural and Indigenous communities across western Canada. In her role with Co-operatives First, Trista works alongside community members to form new businesses based on the cooperative model. Her support with business development and planning helps guide groups through the process of starting a successful business. Trista's professional experience includes various marketing roles, as well as writing business plans for Indigenous startup companies.
A tireless advocate for Indigenous business, Trista is also a founding board member of the Indigenous Chamber of Commerce of Saskatchewan and holds an MBA from Edwards School of Business at the University of Saskatchewan.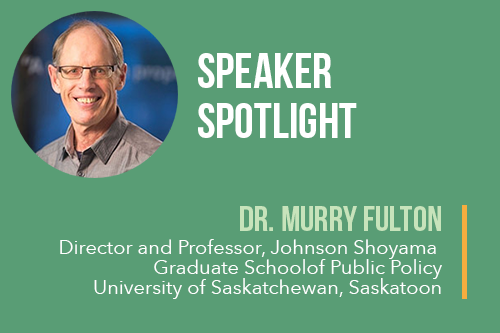 In addition to being the director and a professor at the Johnson-Shoyama Graduate School's University of Saskatchewan campus, Dr. Murray Fulton is also a Co-operative Retailing System Chair in Co-operative Governance and a Fellow in Co-operatives and Public Policy in the Centre for the Study of Co-operatives. His research and teaching interests are focused in a number of areas, including industrial organization, agricultural and rural policy, and public sector and cooperative governance. He is the co-author of a number of books and reports, including Canadian Agricultural Policy and Prairie Agriculture and Co-operatives and Canadian Society.
Fulton has also written many articles and papers on industrial organization, agricultural policy, and cooperatives. One important area of research has been an examination of the changes that are occurring in agriculture and the response of organizations—including agricultural co-operatives—to these changes. His current research is focused on governance and executive compensation in the public and quasi-public sectors. He is also interested in behavioral economics and its application to business strategy and public policy formation.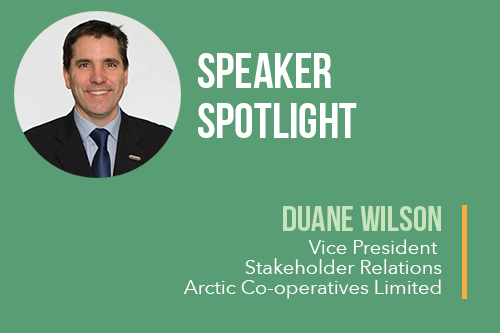 Duane Wilson joined Arctic Co-operatives Limited in 2008 in the capacity of Vice President of Merchandising & Logistics. Reporting to the CEO, Duane and the rest of the Merchandising & Logistics Division provided management of the procurement, transportation and construction needs of the 32 autonomous community-owned and controlled cooperatives in northern Canada that own and direct Arctic Co-operatives Limited. In this role Duane became involved in many of the co-op network's efforts in the areas of environment, health and nutrition. In 2017, Duane assumed the new role of Vice President of Stakeholder Relations, which formalizes responsibilities for Marketing & Communications and liaising with government, media, the academic community and other stakeholder groups.
The services of Arctic Co-op include supply and transportation, art marketing, accounting and auditing services, management support, technical support for Cable TV, hotel and fuel delivery operations, point-of-sale systems, recruitment and human resource development and financing. Key values for the organization include relationships, accountability, diversity, development and service/support.
Prior to his Arctic Co-op tenure, Duane served in various capacities with Federated Cooperatives Limited, most recently as the General Merchandise Marketing Manager for the Winnipeg Region.