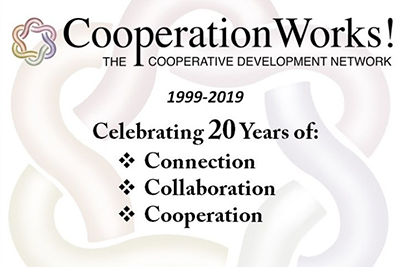 In 1999, a group of co-op developers who'd been informally connecting and collaborating for years got together and launched CooperationWorks!, a national cooperative development network that—20 years later—comprises 33 cooperative development centers and over a dozen individual members working in all 50 states and across all co-op sectors.
With the mission to strengthen America's cooperative movement by building and empowering a network of skilled co-op development practitioners, CooperationWorks! envisions a society in which thriving, cooperatively-owned enterprises are the bridge to a just, resilient democracy.
In the last two decades, CooperationWorks! members have:
Assisted in the creation of over 1,000 businesses
Helped to create or save 15,000 jobs
Assisted in the creation or conversions of over 4,000 cooperative housing units
Additionally, hundreds of new cooperative developers have taken trainings from CooperationWorks!, learning the ropes of cooperative development to serve their communities with meaningful economic transformation. CW members provide everything from board trainings and business planning for new and growing co-ops. Use the network's search tool to find a developer near you who can provide technical assistance to your co-op.
If you're interested in becoming a co-op developer, check out CWs continuing education opportunities, ranging from webinars to certified trainings.
Want to learn more about the work of CW members? Check out their success stories online!