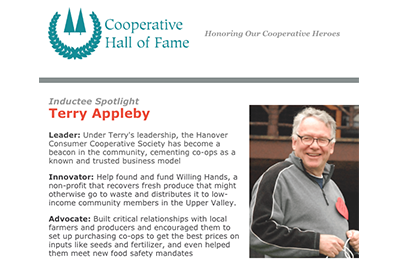 If cooperation is a team sport, Terry Appleby can play all the positions. At Hanover Consumer Cooperative Society's stores in New Hampshire and Vermont, he was a familiar face not only in the boardroom, but also in the parking lot – shoveling snow, directing busy holiday traffic, or simply stooping to retrieve a customer's dropped banana.
Terry's co-op career began in 1980 as a store clerk in Seattle's Puget Consumers Cooperative, now called PCC Community Markets. Later, he became part of the management team that helped set that co-op on track to become the largest consumer food co-op in the U.S. with twelve locations.
A native of New Jersey, Terry and his family were eager to move back east. In 1992, he accepted the position of General Manager at one of the country's oldest and most esteemed food co-ops: the Hanover Consumer Cooperative Society in Hanover, New Hampshire.
Arthur Gerstenberger had been a successful manager of Hanover Co-op for 40 years, and when he retired in 1989, the co-op had a difficult time transitioning to a newer management style, causing employee morale to become low. When Terry arrived three years later, his leadership helped steady that transition and prepare the co-op for future growth.
Under Terry's leadership, Hanover became a beacon in the community, cementing co-ops as a known and trusted business model. During his quarter of a century at the co-op, Hanover quadrupled its store locations and created hundreds of jobs, grossing more than $75 million in annual sales and transforming the regional food economy.
Terry also built critical relationships with local farmers and producers. Small, local suppliers, like Edgewater Farm in Plainfield, New Hampshire, were initially skeptical about working with Hanover—they'd felt disadvantaged by wholesale markets in the past—but with Terry at the helm, suppliers were convinced that the co-op had embraced local agriculture. In addition to buying from them, Terry encouraged local farmers to set up purchasing co-ops to get the best prices on inputs like seeds and fertilizer, and even helped them meet new food safety mandates.
Today, Hanover works with hundreds of local producers and sells $13 million dollars of local and regional products, strengthening the economy and environment of Upper Valley communities. Many small farms would no longer be in business were it not for relationships Terry cultivated and the policies he put in place or advocated for before the board, membership, and elected officials.
Terry also helped form National Co+op Grocers, providing steady leadership at a pivotal moment when efforts to launch a national organization for the food co-op sector were faltering. Today, NCG represents close to 150 co-ops operating in 37 states with combined annual sales of more than $2.1 billion. The organization provides critical buying power that enables co-ops of all sizes to be competitive.
In 2004, Terry helped found—and fund—a non-profit called Willing Hands that recovers fresh produce that might otherwise go to waste and distributes it to low-income community members in the Upper Valley. In 2018, Willing Hands delivered approximately 255 tons of food to neighbors in need.
In 2015, Terry received the Howard Bowers Award for Cooperative Service at the Consumer Cooperative Management Association (CCMA) Conference—a lifetime achievement recognizing his unparalleled influence on the food co-op sector.
Terry has served on several boards throughout his co-op career including NCG, Northeast Cooperatives, Equal Exchange, and Associated Grocers of New England on which he currently still serves. He also was on the founding steering committees of CGANE and the Neighboring Food Co-op Association.
---
The Cooperative Hall of Fame is administered by the Cooperative Development Foundation (CDF), the 501 (c)(3) non-profit affiliate of NCBA CLUSA. Nominations are received annually by the cooperative community, with the final selection made by the NCBA Board of Directors on the recommendations of a selection committee of national cooperative leaders. The Cooperative Hall of Fame Gallery is on display in NCBA CLUSA's offices in Washington, DC and also can be visited on the web at www.heroes.coop.