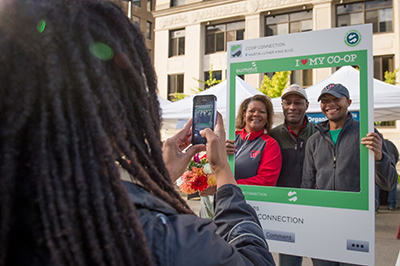 Ahead of a House Financial Services Committee markup, NCBA CLUSA led cooperatives across sectors in support of the Expanding Financial Access for Underserved Communities Act (H.R. 7003).
In March, Financial Services Committee Chairwoman Maxine Waters (D-CA) introduced the Expanding Financial Access for Underserved Communities Act. Specifically, this bill would:
Allow all federal credit unions to add underserved areas to their field of membership,
Exempt business loans made by credit unions in underserved areas from the credit union member business lending cap, and
Expand the definition of an underserved area to include New Markets Tax Credit areas and any area that is more than ten miles from the nearest financial institution branch.
H.R. 7003 was part of a group of bills the Financial Services Committee considered to advance through committee last week that are geared toward "protecting and expanding financial access, promoting community development, and care for those experiencing homelessness," said Chairwoman Waters in her opening remarks.
"As cooperatives and supporting organizations, we strive to address market challenges and create economic opportunity through a time-tested business model that builds a more participatory and inclusive economy," the cooperatives supporting H.R. 7003 wrote. The coalition emphasized that the bill "represents a significant step forward toward building a more inclusive economy."
You can read the full letter here.
Major credit union organizations shared their support for and praised passage of H.R. 7003. Excerpts of their statements include:
Jim Nussle, President and CEO, Credit Union National Association, "Thank you to all on the committee who supported this important legislation and credit unions' efforts to promote financial well-being for all. This legislation provides a commonsense market-based solution to reach the nearly one in five households that are un- or underbanked across the country."
Dan Berger, President and CEO, National Association of Federally-Insured Credit Unions, "Today, lawmakers chose to put credit unions and the consumers they serve first. [H.R. 7003] is a step forward in helping the credit union industry expand support to underserved communities, especially those hit hardest because of big banks' declining presence in these areas."
Cathie Mahon, President and CEO, Inclusiv, "Increasing opportunity and access in low-income and historically excluded communities is critical to addressing and reversing inequities in our banking system. Enabling credit unions to expand more easily to serve underserved communities with quality financial products and services will increase capital where it is needed most."
Renée Sattiewhite, President and CEO, African American Credit Union Coalition, "H.R. 7003 is critical in addressing the epidemic of unbanked and underbanked Americans by leveraging the success of the credit union model to foster financial wellbeing and provide access to capital to communities most in need."
Maria J. Martinez, Chairwoman, National Association of Latino Credit Unions and Professionals, "It is vital that underserved and traditionally marginalized communities have access to a trusted, local financial partner that protects them from payday lenders, responds to unexpected financial needs, and provides asset building opportunities to buy a home, secure reliable transportation, afford higher education and start or grow a business."
Now, the Expanding Financial Access for Underserved Communities Act awaits consideration by the full House of Representatives and will need to be considered by the Senate before being signed into law. NCBA CLUSA will continue to work with our credit union partners to advocate for this important legislation.