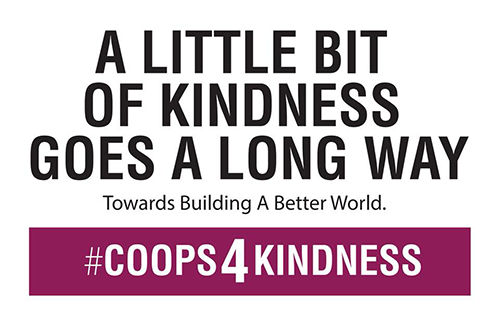 Cooperatives across the U.S. this year were not only united in their efforts to empower people and build communities through cooperation; they also pledged to complete and log 1 million acts of kindness by the end of October.
Launched by Cooperatives for a Better World at NCBA CLUSA's 2017 Co-op IMPACT Conference, the #Coops4Kindness campaign harnessed the power of cooperatives to make the world more equitable, humane and kind.
In an October 31 press release, Cooperatives for a Better World announced that cooperators have exceeded their goal, logging more than 1.4 million acts of kindness during 2018.
"When each act of kindness, no matter how large or small, is added to the next, we begin to build a better world in a big way," said Howard Brodsky, founder and chairman of Cooperatives for a Better World and co-CEO of CCA Global Partners.
Read the full release here: https://cooperativesforabetterworld.coop/one-million-acts-of-kindness-to-build-a-better-world/