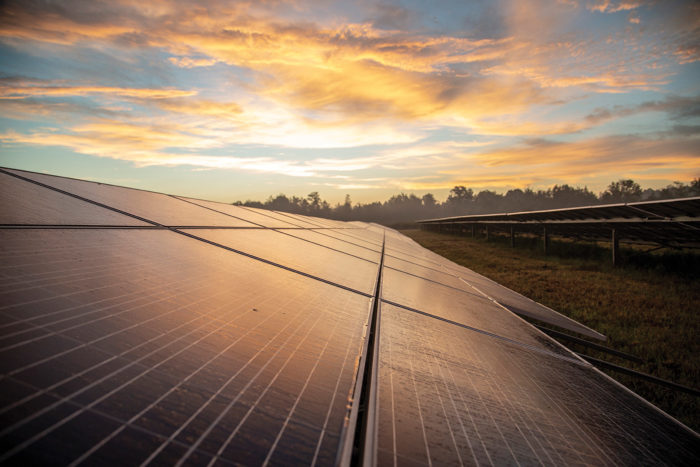 Economically depressed South Arkansas had been bleeding jobs and residents for decades when Ouachita Electric Cooperative took dramatic action to help revive the rural communities it serves by paving the way for the first utility-scale solar project in the state.
Co-op General Manager Mark Cayce helped negotiate a deal to ensure that Aerojet Rocketdyne expanded its operations in the area by providing the rocket-motor maker with the renewable energy it needs to win federal defense contracts.
The deal brought about 400 new Aerojet jobs to the co-op's territory in 2017, increasing Ouachita's residential customers for the first time in years. In early 2020, the project helped the co-op reduce rates by more than 4% for its 7,000 other consumer-members as peak demand expenses dropped because of savings tied to the 12-MW solar array.
Cayce says the success story grew from a stark realization.
"If we didn't change," he says, "we weren't going to exist."
Economic development experts are seeing the trend play out in rural regions across the country, as large employers increasingly demand renewable energy to meet ambitious sustainability goals.
"Renewable energy and broadband," says Zachary Mannheimer, CEO of Des Moines-based Atlas Community Studios, which helps rural communities plan for growth. "[Those] are the two major services … to take advantage of economic development opportunities."
And those opportunities are growing quickly amid a trend of companies fleeing the high cost of living in urban areas and looking for a better quality of life for their workers in suburban and rural communities.
Co-ops stand to benefit from the migration, Mannheimer says.
"The pandemic, by showing how people could successfully work from home anywhere, accelerated this trend like I couldn't even have imagined," he says. "But you can't just sit around and wait for the Fortune 500 companies to come. You've got to entice them."
Co-ops have been doing just that through creative agreements to provide renewable energy to their large commercial and industrial members. Among many recent projects:
"It's a requirement for a growing set of customers to have a renewable solution," says Chris Hansen, TVA's vice president of origination and renewables. "Customers increasingly want greater intimacy with their power supply. They want to know where their power is coming from."
Still, Columbia's ability to provide renewable energy puts it ahead of many electric utilities, according to "The Greening of Economic Development" by Jim Bausell, executive vice president of business development at Nashville-based Silicon Ranch, which has partnered with co-ops on utility-scale solar projects.
"Electric utilities have frequently offered a predictable and beneficial path to new development prospects," Bausell writes. "Advertising 'low electric rates, the most reliable service, and discounts for commercial and industrial customers,' utilities seek to attract new load with this traditional value proposition they've used for decades. Those utility incentives have often led to a 'win' in economic development for many regions and states."
But that's no longer enough for a growing number of big companies, he says.
"The economic development paradigm has shifted, with new site locations demanding 100% renewable energy and other sustainability attributes."
In South Arkansas, Ouachita EC is building on its success with Aerojet. Last year, the co-op partnered with another big employer, General Dynamics, and Today's Power Inc. to build a 2-MW solar energy system that includes on-site battery storage.
Cayce says General Dynamics is looking at a large expansion that could bring more than 300 new jobs to the co-op's territory.
OEC has found a winning economic development strategy in offering renewables, broadband service, and energy efficiency programs, Cayce says
"We were watching people leave and having to raise rates—a bad combination," he says. "Now, we've been able to bring people in and reduce rates. We're giving people a reason to move to South Arkansas. We're changing the landscape."