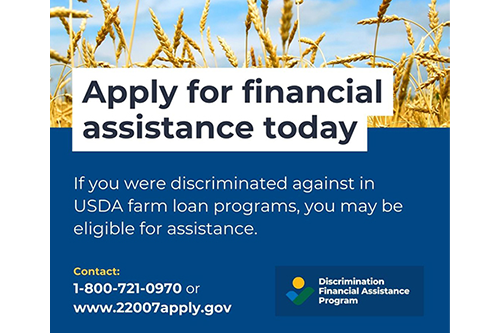 Farmers, ranchers and forest landowners who experienced discrimination in USDA's farm lending programs prior to January 1, 2021 have 10 additional weeks to apply for financial assistance through Section 22007 of the Inflation Reduction Act. The Discrimination Financial Assistance Program (DFAP) application process has been extended through January 13, 2024.
Borrowers have the option to apply for assistance online at 22007apply.gov or by submitting a paper-based form. Details about the program, including an application and e-filing portal, are available at 22007apply.gov. The website includes an English and Spanish language application that applicants can download or submit via an e-filing portal, information on how to obtain technical assistance in-person or virtually, and additional resources and details about the program.
Applicants can also call the free call center at 1 (800) 721-0970, or visit one of several dozen brick-and-mortar offices the program has set up around the country.
Locations are provided on the program website and vendors will update the local events schedule with more information as it becomes available. It is important to note that filing an application is FREE and does not require a lawyer.
If you want to get weekly updates on the program's events and progress, visit 22007apply.gov, and subscribe to the weekly newsletter.