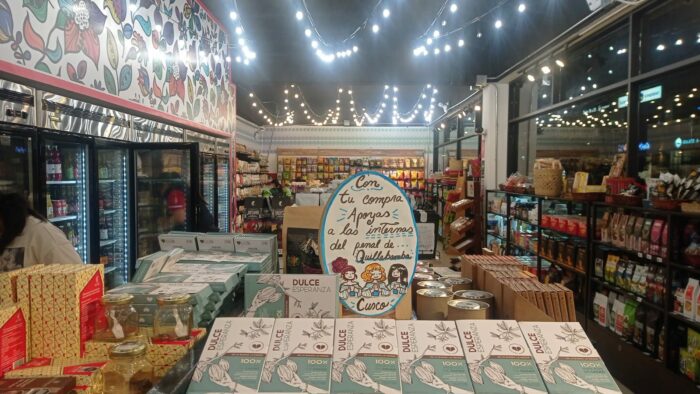 Peruvian market Thika Thani is revolutionizing grocery shopping in Lima and uplifting co-ops in the process. What started in 2015 as a singular boutique grocery store in Lima specializing in locally produced natural, organic, and artisanal products has expanded to four stores in Peru's capital city and includes a thriving online marketplace. Thika Thani recently opened a store inside a large shopping center that became profitable in just one month.
Thika Thani's success highlights the growing demand for locally and sustainably produced grocery and health products in Lima. As Thika Thani co-founder César Vega pointed out, "we see a changing trend in consumer awareness. Now, our customers—adults and young people—want to know the origin of the products, the producer, the impact of their purchase and the benefits to their health. During the pandemic, our digital channels helped spread our purpose."
Out of the over 5,000 Peruvian products and 700 brands lining Thika Thani's shelves and sold online through their virtual marketplace, approximately 30% are sourced from cooperatives. Many coffee and cacao products included in their stock are from cooperatives that NCBA CLUSA supports through the U.S. Agency for International Development (USAID) Cooperative Development Program (CDP).
NCBA CLUSA began partnering with Thika Thani in 2020 with the shared goal of supporting cooperatives and marketing their products during the pandemic. Through the CDP project, NCBA CLUSA linked Thika Thani with several coffee and cacao cooperatives to promote sustainable and equitable market relationships. As NCBA CLUSA's Country Representative for Peru Oscar Inocente explained, "cooperatives would not be able to sell their products in these main commercial areas of Lima on their own. Thika Thani's business model has created new market outlets for cooperatives across the country, linking supply and demand at a lower cost."
Dulce Esperanza chocolate is one example of how Thika Thani is promoting co-op products and uplifting Peruvian producers, in this case incarcerated women. Thika Thani's founders Karla Eche and César Vega said that Dulce Esperanza's chocolates are doing so well in their stores that they have already ordered 2,000 bars for the holiday season. The key has been sharing the inspirational story behind the product. Thika Thani has been playing the Dulce Esperanza video produced by the USAID/Peru Mission on the TV screens in their stores, and shoppers are responding.
In addition to promoting co-op products, Thika Thani has also supported NCBA CLUSA's CDP project through the Co-op Business School (formerly the Co-op Marketing School). In March 2022, Thika Thani led a five-session course on entrepreneurship and digitization, using their online marketplace as a tangible example of how to use online platforms and social media to promote business development and market products. Students were particularly attracted to the Thika Thani course because it highlighted real-time market information and current trends.   
Collaboration with Thika Thani will continue to grow through NCBA CLUSA's new US Department of Agriculture (USDA)-funded Peru spices project. Focused on developing the ginger, turmeric, and oregano value chains and strengthening capacities of Peruvian farmers, cooperatives, and agribusinesses in quality production and value addition through environmentally sustainable practices, these objectives align with Thika Thani's mission and vision.
For Thika Thani, a sustainable cycle that positively impacts the Peruvian economy includes supporting small and medium size producers from around the country with fair prices for environmentally conscientious products while promoting healthy eating habits for consumers. Thika Thani has already become a major disruptor in the local market, and NCBA CLUSA is proud to partner with this innovative business to expand impact.