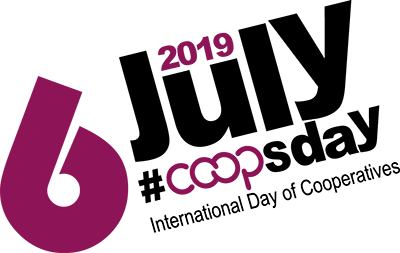 On July 6, cooperatives from around the world will come together under the theme "Co-ops 4 Decent Work" to amplify how they're creating stable, sustainable jobs and a more inclusive economy.
Resources for this annual celebration of the cooperative movement are now available to download. They include:
logo and related graphics in three languages
sample social media posts
#CoopsDay interactive map
This annual celebration of the cooperative movement is led by the International Cooperative Alliance (ICA) in partnership with the United Nations and takes place on the first Saturday of July. #CoopsDay has been observed since 1923.
By using the #CoopsDay hashtag, co-ops worldwide will seek to educate local, national and global policymakers, civil society organizations and the general public on how—as people-centered enterprises defined by democratic control—cooperatives are contributing to a decent working environment.
Given today's widening inequality, increased job insecurity and high unemployment levels, the 2019 #CoopsDay theme was chosen to support Sustainable Development Goal (SDG) #8: "Inclusive development and decent work."