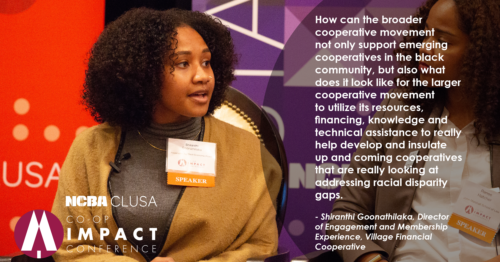 From the civil rights history and co-ops outlined in Jessica Gordan Nembhard's book Collective Courage to the current call for more inclusion in credit unions and the burgeoning homecare co-op movement, we are highlighting how the broader cooperative community can support co-ops in communities of color today across social media this month.
In our first feature, we chatted with Shiranthi Goonathilaka, director of Engagement and Membership Experience at the Village Financial Cooperative. Speaking on a panel at the Co-op IMPACT Conference last year Goonathilaka asked, "What does it look like for the larger cooperative movement to utilize its resources, financing, knowledge and technical assistance to really help develop and insulate up-and-coming cooperatives that are really looking at addressing racial disparity gaps?"
Over the month of February, we'll hear from more voices across the co-op community who can help answer that question and celebrate some of the successes. Follow along on Twitter, Facebook and Instagram (all @ncbaclusa) to celebrate with us and share.
During Black History Month (and beyond!) we want to amplify voices across the co-op community to share stories, provide advice, challenge convention and support black cooperators working to build a more inclusive economy—is there a co-op or cooperator you think we should highlight? Let us know!