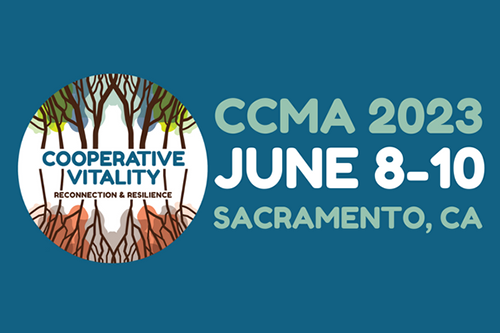 The Consumer Cooperative Management Association (CCMA) Conference is returning to Sacramento, California from June 8-10 for the first time since 1995. Local host cooperatives Sacramento Natural Foods Co-op, Davis Food Co-op, BriarPatch Food Co-op and Pachamama Coffee Cooperative are excited to share their co-ops and communities with CCMA attendees.
This year's theme, "Cooperative Vitality: Reconnection and Resilience," honors Sacramento's nickname, "City of Trees." Sacramento's tree canopy is thick with elms, oaks, sycamores and hundreds more species that together cover nearly a quarter of the urban landscape.
Deeply rooted local institutions, such as cooperatives, are an essential element of thriving, diverse communities. CCMA 2023 will shed light on the many ways cooperatives—like forests—foster connection, regeneration and community vitality. Register by Friday, April 14 to secure early-bird pricing.
CCMA 2023 will feature:
Engaging keynote speakers highlighting issues impacting food co-ops
25 breakout sessions featuring cooperative peers sharing lessons learned and strategies for the future
Tours highlighting the host co-ops stores, community partners dedicated to food access, and organic producers of Sacramento
Social activities to connect and network with fellow cooperators.
Community boards for groups to gather and connect around topics of interest
In-app peer-to-peer networking
An online hub with all conference activities in one place
CCMA is presented by the University of Wisconsin Center for Cooperatives.