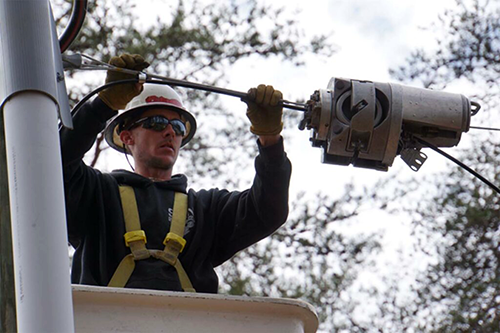 Don't let the nearly 300-year-old house at the end of a three-mile-long gravel road in rural Virginia fool you. It's got the fastest internet around as one of 20,000-plus broadband connections made by Central Virginia Electric Cooperative in four years, a milestone recently marked by the co-op.
"I have been released from buffer circle purgatory," said Susan McSwain, the first resident of the house to get electricity from the co-op and broadband from its subsidiary, Firefly.
"Having Firefly is like having a planetary library on my desk. It's access to a world of wonder."
McSwain shared her story at the Arrington-based co-op's April 5 celebration with 160 representatives from electric co-ops and co-op organizations and state agencies, state and federal lawmakers and CVEC's partners that worked to get the job done, including Calix, Conexon, Graybar and S&N Communications. Reps. Abigail Spanberger, D-Va., and Bob Good, R-Va., whose districts are served by CVEC, praised the co-op's milestone and offered bipartisan support for rural broadband.
"To connect 20,000 homes and businesses over four years, you are literally changing lives and communities," said Good.
The co-op's fiber network now is available to 40,000 homes and businesses, 90% of which lack other options for broadband service, said Bruce Maurhoff, Firefly's senior vice president and chief operating officer.
"We placed 14.5 million feet of strand and lash fiber on poles and another 3 million feet in conduit underground," he said. "That is enough fiber to reach from the first pole where we began in Appomattox all the way to Anchorage, Alaska. And we did it in 52 months."
The Firefly team described its $150 million trek, which began in 2018 and traveled through its 14-county electric territory, as ambitious as it was capital intensive.
To prepare the system for fiber, CVEC performed make-ready work across its entire system of 4,500 miles of distribution line. The co-op replaced 5,738 poles—far above its typical 100 to 150 poles each year—and set 6,490 anchors. It rearranged equipment on tens of thousands of poles and installed 28 communication huts as network nodes, Maurhoff said.
On the financial side, invoices more than doubled and lines of credit grew exponentially.
"At peak times we could be paying more than $3 million a week for materials, construction or make-ready work," said Tina Mallia, Firefly's vice president and chief financial officer. "As you can imagine, a $150 million project in four years can really affect cash flow."
CVEC previously spent about $15 million per year on infrastructure, but during the last four years, fiber construction cost $35 million to $40 million annually, she said. The co-op's lines of credit increased from $9.7 million with National Rural Utilities Cooperative Finance Corp. and $1 million with CoBank to about $20 million from each lender.
The U.S. Department of Agriculture's Rural Utilities Service Electric Program approved a $66 million loan to launch CVEC's fiber venture. The co-op also won funds from the Federal Communications Commission's Connect America Funds Auction and Rural Digital Opportunity Fund and USDA's ReConnect program for rural broadband. Grants from the state and counties have also helped the co-op achieve its goal, Mallia said.
"These are all important funds that allow us to provide this world-class service at affordable prices for our subscribers," she said.
The bottom line to winery manager Bill Tonkins is that the co-op's delivery of broadband during the pandemic kept him in business. Tonkins manages Veritas, the vineyard where Firefly's event took place
"Firefly broadband helped Veritas survive COVID," he said. "All of a sudden you had to order online. The point of sale became touch-free. Tastings were ordered through a QR code. We became a no-cash facility. All these things were possible due to having broadband."
Gary Wood, president and CEO of CVEC and Firefly, thanked the co-op's board for making the decision to enter broadband despite the challenges and noted how Firefly has been embraced by the community
"Transforming lives—that's what we're doing at Firefly in central Virginia," he said.