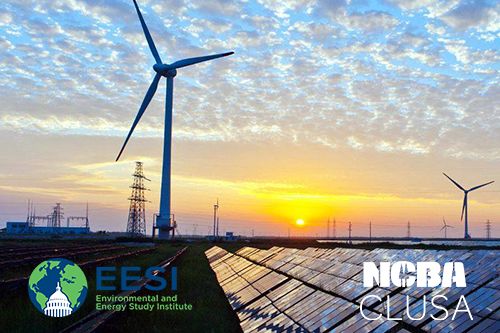 At NCBA CLUSA's 2018 Co-op IMPACT Conference last month, attendees heard an engaging discussion from rural electric cooperative leaders on their efforts to deliver energy efficiency savings to all of their members, regardless of a member's financial situation.
The panel, "Power Play: Using Inclusive Financing to Bring Energy Efficiency and Renewable Energy to Rural Electric Co-op Members," featured two co-op's on-bill financing programs. These programs, in which a utility pays the upfront costs of home energy upgrades that the customer repays over time as part of their monthly utility bill, have been driven largely by co-op innovation and information sharing.
The panel featured:
Mark Cayce, General Manager and CEO of Ouachita Electric Cooperative in Arkansas
Rob Ardis, President and CEO of Santee Electric Cooperative in South Carolina
Chris McLean, Acting Administrator of the USDA Rural Utilities Service
Ouachita Electric developed its program "as a way to give our members a solution to problems they had. Before, we were just giving advice, and now we actually have solutions," Cayce said. Ouachita Electric's on-bill offering, called HELP PAYS, is not actually a loan, but rather a voluntary tariff payment affixed to the meter until the co-op is repaid in full.
Ardis added that for the South Carolina co-ops' Help My House on-bill program, "Our goal is to be there for the membership. Any time we can offer them something to improve their quality of life and help them with their pocketbook as well, that's a win-win for everybody."
During the panel, McLean announced three new loans totaling $20 million to co-ops through the U.S. Department of Agriculture's zero-interest Rural Energy Savings Program (RESP). This included $8 million to Ouachita Electric to expand its HELP PAYS on-bill program. "RESP is an incredible tool to bring capital especially into areas where there is not a lot of capital available for people to invest," Cayce said. "Our goal is to try to touch every house in our service territory. We've only just started."
USDA has now awarded more than $40 million in RESP loans to 15 co-ops, including a previous award made to Santee Electric and six other South Carolina electric co-ops. USDA is currently accepting applications for an additional $100 million. Learn more about the program.
The IMPACT panel was presented by the Partnership for Advancing an Inclusive Rural Energy Economy, a collaboration between NCBA CLUSA and the Environmental and Energy Study Institute (EESI). EESI has grant funding to provide free RESP application assistance to electric co-ops.