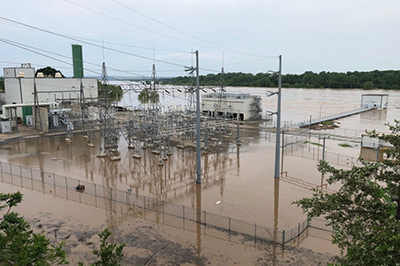 Severe storms that spawned high winds, tornadoes and heavy rain in the central U.S. triggered major flooding, and electric cooperatives in Oklahoma and Arkansas will be dealing with the effects for weeks.
"This began with severe storms in late April and continued throughout the month of May," said Sid Sperry, director of Public Relations, Communications and Research for the Oklahoma Association of Electric Cooperatives.
"While repairs to windstorm-damaged areas often begin as soon as conditions improve, flooding can last days or weeks," Sperry said. "Once floodwaters subside, transformers and other equipment have to be repaired, and in many instances members have to hire licensed electricians to check their systems before service can be restored."
That's the situation facing hundreds of members of co-ops in parts of northeastern Oklahoma, where flooding in the Arkansas River watershed has been ongoing for more than two weeks.
"Three of our co-ops serving members in the Tulsa metropolitan area and surrounding counties are dealing with the aftermath of flash flooding and major historic flooding along the Arkansas River," Sperry said.
Co-ops were able to perform precautionary disconnections in some flood-prone areas to help mitigate potential damage to electrical systems, but the speed and severity of flash flooding has contributed to outage problems.
High water has been even more severe in parts of Arkansas, where Little Rock-based generation and transmission cooperative Arkansas Electric Cooperative Corp. has shut down two hydroelectric facilities and one baseload power station.
"The Thomas B. Fitzhugh plant near Ozark, Arkansas, is built to withstand flooding, and this is the highest the Arkansas River has ever been near the plant," said Rob Roedel, spokesman for the Electric Cooperatives of Arkansas. "Three of our distribution co-op members serving communities near the Arkansas River have de-energized meters serving between 500 and 750 of their members due to high water in the area."
While the Fitzhugh plant, a natural gas generation station, and the G&T's run-of-the-river hydroelectric facilities have pumps to help control flood damage, high water in the facilities prompted decisions to temporarily suspend their operations, Roedel said.
"The co-op members who have been de-energized have homes and businesses in flood-prone areas," he added. "We're also actually looking at some areas for additional precautionary disconnects that are beyond normal flood-prone areas because of the historic water levels."
Officials from several co-ops serving members downstream along the Arkansas River watershed are considering similar options, he said.
"We're gathering statistics for state emergency management officials in the event that a disaster declaration is warranted," Roedel said. "There will be flooding along both sides of the river, and even with the levee system there are properties beyond the levees that will likely see some flooding."