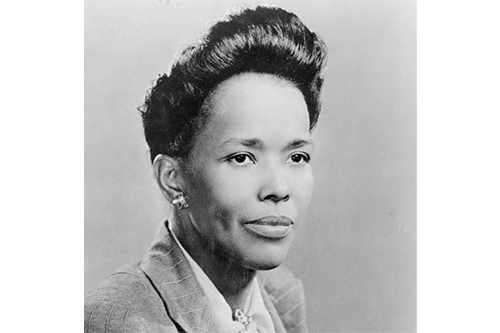 Ella Jo Baker has been selected as the first Unsung Cooperative Hero. She will be inducted into the Cooperative Hall of Fame, the cooperative community's most prestigious honor, alongside four other inductees on October 6, 2022 at the National Press Club in Washington, DC.
Ella Josephine Baker, a prominent leader of the civil rights movement, was born in Norfolk, Virginia in 1903 and grew up in a close-knit African American community in Warren County, North Carolina where Black people pooled resources to help each other survive and thrive in the aftermath of slavery. An assertive and adventurous soul who experienced early on the benefits of a sharing economy, she worked with George Schuyler to power a new Black cooperative movement in this country at the age of 27. As one of the founding members of the Young Negroes' Co-operative League (YNCL), and its National Director, she worked with others to promote cooperative economics to solve some of the economic devastation among African Americans that she was seeing on New York streets.
She deepened her knowledge of cooperatives after attending co-op training on a scholarship from the Cooperative League of the United States (CLUSA). Soon after, Baker spoke on "What Consumers' Co-operation Means to Negro Women" at the first conference of YNCL, where one of the resolutions of the YNCL conference was "that we seek to bring women into the League on equal basis with men." She was elected the national director of YNCL, where she co-led an ambitious five-year plan to develop a multi-sector cooperative ecosystem, connected through two dozen League councils throughout the U.S. that supported the national YNCL coalition of local cooperatives and buying clubs.
Over the next decades she helped form many cooperatives, inspired many others to pursue the cooperative model and saw the links between self-help, and economic and racial justice. Baker's early work organizing and promoting cooperatives likely inspired and honed the ideas about participatory grassroots leadership strategy she is so loved and well known for, and she used those insights to inform her organizing for many other causes in the next 60 years.
Though a U.S. postage stamp honors her image, and an Oakland, CA, Human Rights Center and a Washington, DC housing cooperative bear her name, Ella Jo Baker has gone unrecognized for her decades of work to support cooperatives. Earlier this year, the Cooperative Development Foundation established an award to recognize contributions to cooperative practice made before the Hall of Fame began in 1974 by individuals from groups of people whose work and achievements have historically been unrecognized or even suppressed, particularly women of color. Ms. Baker was chosen earlier this month from among three nominees submitted to a selection committee.
Dr. Jessica Gordon-Nembhard, author of Collective Courage and City University of NY professor, together with Margaret Lund, longtime co-op educator, advocate, financer, and developer, submitted the nominations for three Black women who spent much of their lives working in communities to help them support their needs through cooperatives. Gordon-Nembhard noted that "we find throughout history that the Black co-op movement was a silent partner in the long civil rights movement – and essential to it. This recognition of Ella Baker reminds us of that relationship, and of the important roles Black women have played in the co-op movement. This new category of Unsung Co-op Heroes in the Co-op Hall of Fame allows us to remember and celebrate the contributions of the most invisible of our co-op leaders."
Speaking about this year's Unsung Heroes process, Lund commented: "There were so many early cooperative innovators, particularly women, whose leadership has not been recognized. It was really difficult for the committee to make a choice. Ella Jo Baker stands out, however, not just for her decades of service, leadership and inspiration to the cooperative movement, but also for her strategic thinking and effective advocacy for the cooperative model as a comprehensive tool for community self-help."
CDF welcomes nominations for Unsung Heroes. To support the creation of Unsung Hero nomination packets, CDF's Cooperative Education Fund will offer small grants to individuals interested in researching cooperative practices made by individuals from groups of people whose work and achievements have been unrecognized. If you are interested in a research grant, please email Kirstie Boyette at kboyette@ncba.coop. All Unsung Hero nomination packets will be available at cdf.coop/cooperative-education.
For more information on the Cooperative Hall of Fame visit heroes.coop.