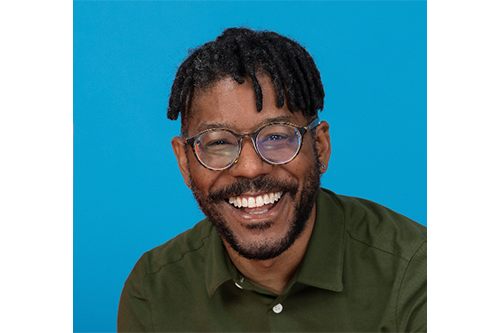 The Board of Directors of the National Cooperative Business Association CLUSA International (NCBA CLUSA) is pleased to announce the election of Esteban Kelly, Executive Director of the U.S. Federation of Worker Cooperatives and immediate past 1st Vice Chair of NCBA CLUSA's Board of Directors, as the association's new board chair, effective June 14. Kelly is also Founding President of the freelancer co-op Guilded; Worker-Owner and Co-Founder of AORTA (Anti-Oppression Resource & Training Alliance); and Board Member of CICOPA, a sector organization of the International Cooperative Alliance (ICA).
"I am honored to have been elected chair of NCBA CLUSA's Board of Directors," Kelly said. "I look forward to collaborating more closely with NCBA CLUSA leadership and staff in this role and leveraging my 25 years of organizing and advocacy to empower more people to contribute to shared prosperity through cooperative ownership."
"With great enthusiasm, the staff at NCBA CLUSA looks forward to working with Esteban in his new role as the association's Board Chair," said Doug O'Brien, president and CEO of NCBA CLUSA. "Esteban's deep experience within the food, housing and worker co-op sectors, along with his passion for advocacy, food and climate justice, and the solidarity economy equip him to advance our collective vision of building a more inclusive economy through cooperatives."
Kelly succeeds Carla Decker, who served one term as chair of NCBA CLUSA's Board of Directors. Decker is president and CEO of SkyPoint Federal Credit Union.
Kelly has been a member of NCBA CLUSA's Board of Directors since 2011, and was recently reelected by the association's membership. A visionary leader and strategist, Kelly has helped shape, inspire and advocate for the cooperative and solidarity economy movements since 1999. Esteban was a Co-Founder and first Board President of the cross-sector Philadelphia Area Cooperative Alliance (PACA) and has served on numerous boards including the Democracy At Work Institute, the U.S. Solidarity Economy Network, the Cooperative Innovation Lab, Policy Advocates for Sustainable Economies, CICOPA, NCBA CLUSA and the Cooperative Development Foundation (CDF).
In 2011, Esteban was inducted in the North American Students for Cooperation (NASCO)'s Cooperative Hall of Fame in recognition of his decade of leadership on their board and as their Director of Education & Training. He previously worked at the New Economy Coalition, served as a mayoral appointee and briefly co-chaired the Philadelphia Food Policy Advisory Council. For eight years, he was a manager leading food justice education and organizational development as a worker-owner at Mariposa Food Co-op. In 2018, Esteban worked with a broad coalition led by NCBA CLUSA to help get the Main Street Employee Ownership Act passed by Congress.
Esteban is a Ford Global Fellow, a Margaret Burroughs Fellow in the Social Justice Portals Project at University of Illinois-Chicago, an Executive Fellow of the Institute for the Study of Employee Ownership and Profit Sharing at Rutgers University, and a Futures 4 Good Fellow in the Equitable Enterprise Initiative at the Institute for the Future. He is on the advisory board of the Climate + Community Project and the all-volunteer Philly Stands Up collective, which advances abolition through community accountability and transformative justice practices. Esteban is an advisor to the multi-stakeholder musician's co-op Ampled, the Platform Co-ops Consortium, Making Worlds Bookstore Cooperatives, and the Movement for Black Lives.
Kelly holds a master's degree in Socio-Cultural Anthropology from the City University of New York, and received a bachelor's degree in Political Economy of Environment & Development from UC Berkeley.
NCBA CLUSA's Board of Directors also elected the rest of the Executive Committee during last week's board meeting. Jill Tomalin, COO of Credit Union National Association (CUNA), will replace Esteban Kelly as 1st Vice Chair; Karen Zimbelman, retired Senior Director of Membership and Cooperative Relations at National Co+op Grocers, was reelected 2nd Vice Chair; Devin Fuhrman, Chief Agriculture and Sponsor Relations Officer at Nationwide, was reelected Treasurer; and Christina Jennings, Executive Director of Shared Capital Cooperative, will step in as Secretary to replace Tomalin.