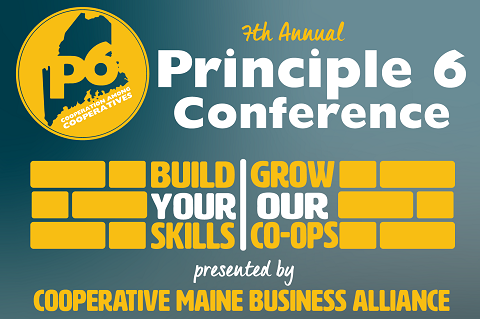 Join the Cooperative Maine Business Alliance on Saturday, April 4 from 9:30 am – 4 pm at the University of Maine Hutchinson Center in Belfast for the 7th Annual Principle 6 Conference. This event will help cooperatives, their staff and supporters build business skills while providing networking opportunities for Maine's co-op community.
Attendees will participate in a range of skill-building workshops, experience first-hand storytelling from different co-op sectors, and enhance collaboration within Maine's cooperative economy. The schedule also includes lunch, coffee and a reception.
Principle 6, one of the 7 Cooperative Principles, focuses on cooperation among cooperatives. This conference provides the opportunity for Maine cooperatives to join forces in building a strong cooperative economy in Maine. This event will help staff, management and boards build business and governing skills. It will also provide attendees with a networking platform, highlight advocacy efforts and opportunities, and bring cooperators together to celebrate the great work that co-ops in Maine are doing.
Apr 04th, 2020, 9:00 AM - Apr 04th, 2020, 4:00 PM
University of Maine Hutchinson Center
Email: emmy@maine.coop