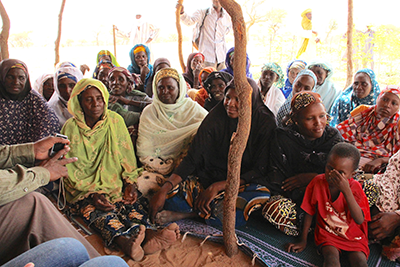 Voir ci-dessous pour la version française.
Citizen Working Groups: Locally-Led Development and Institutional Capacity Building
Thursday, March 25, 2021
10:00-11:30 am EDT/14:00-15:30 GMT
The National Cooperative Business Association CLUSA International (NCBA CLUSA) and the RISE II Sahel Collaboration and Communication activity invite you to join us for the fourth and final webinar in a closeout series celebrating the impact and legacy of the U.S. Agency for International Development (USAID)-funded Resilience and Economic Growth in the Sahel-Enhanced Resilience (REGIS-ER) project.
During our final webinar, we'll highlight citizen working groups, a community governance model that formalizes locally-led development and institutional capacity-building. Early in the project, REGIS-ER noticed there were limited avenues for civil society actors to formally engage with local government. In response, REGIS-ER worked with community groups and commune government to form 15 citizen working groups in Burkina Faso and Niger that support 1,200 villages. Officially recognized by municipal councils, these groups foster dialogue and accountability between communities and local government as they work together to create positive change. As trusted and vital community institutions, citizen working groups help implement sustainable solutions to local challenges that are integrated into broader regional and national development plans. Our panelists will provide insights into the success of sustaining locally-led development efforts in both countries. We'll also hear from the Mayor of Barsalogho, one of the communes involved in the citizen working group intervention.
Register now to learn from one of the longest-running, multi-sectoral resilience activities in the Sahel.
This webinar will be conducted in French, with simultaneous English interpretation. Webinar resources will be available in both languages.
Moderated by 
Doudou Ndiaye
Regional Agriculture Specialist, Sahel Regional Office
USAID | Senegal
Panelists
Abdourahamane Laouali
Governance Expert
REGIS-ER
Abdou Diouf
Environmental Legal Scholar
(Independent Consultant)
Aï Abarchi Ladoua
Technical Director
REGIS-ER
Abdoulaye Pafadnam
Mayor
Barsalogho Commune, Burkina Faso
---
Les Groupes de Travail Citoyens : Développement piloté à l'échelle locale et le renforcement des capacités institutionnelles
Jeudi 25 mars 2021
10h-11h30 EST / 14h-15h30 GMT
La National Cooperative Business Association CLUSA International (NCBA CLUSA) et la Sahel Collaboration and Communication Activity de RISE II vous invitent à vous joindre à nous pour le quatrième et dernier webinaire d'une série de clôture célébrant l'impact et l'héritage de l'Agence américaine pour le développement international (USAID) -etle projet de Résilience et de croissance économique dans le Sahel-Renforcement de la résilience (REGIS-ER).
Au cours de notre dernier webinaire, nous mettrons en évidence les Groupes de Travail de Citoyens, un modèle de gouvernance communautaire qui formalise le développement local et le renforcement des capacités institutionnelles. Au début du projet, REGIS-ER a remarqué qu'il y avait des canaux limités pour les acteurs de la société civile de s'engager formellement avec leur gouvernement local. En réponse, REGIS-ER a travaillé avec des groupes communautaires et le gouvernement communal pour former 15 Groupes de Travail de Citoyens au Burkina Faso et au Niger qui soutiennent 1200 villages dans 15 communes. Officiellement reconnus par les conseils municipaux, ces groupes encouragent le dialogue et la responsabilité entre les communautés et les autorités locales à travers des actions collectives pour créer un changement positif. En tant qu'institutions communautaires de confiance et vitales, les groupes de travail citoyens aident à mettre en œuvre des solutions durables aux défis locaux qui sont intégrées dans des plans de développement régionaux et nationaux plus larges. Nos panélistes fourniront des informations sur le succès des efforts de développement soutenus au niveau local dans les deux pays. Nous entendrons également le maire de Barsalogho, l'une des communes impliquées dans l'intervention du groupe de travail citoyen.
Inscrivez-vous maintenant pour apprendre de l'une des activités phare de résilience les plus anciennes au Sahel.
Ce webinaire se déroulera en français, avec interprétation simultanée en anglais. Les ressources du webinaire seront disponibles dans les deux langues.
Modérateur
Doudou Ndiaye
Regional Agriculture Specialist, Sahel Regional Office
USAID | Senegal
Panelists
Abdourahamane Laouali
Expert en gouvernance et promotion des institutions locales
REGIS-ER
Abdou Diouf
Juriste environnemental
(Consultant indépendant)
Aï Abarchi Ladoua
Directeur technique
REGIS-ER
Abdoulaye Pafadnam
Mayor
Barsalogho Commune, Burkina Faso
Register now / Inscrivez-vous maintenant
Mar 25th, 2021, 10:00 AM - Mar 25th, 2021, 11:30 AM