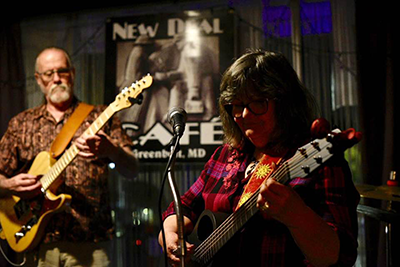 Everything Co-op will be recording live from the New Deal Cafe in Greenbelt, Maryland on Thursday, October 31. A weekly exploration of the impact and potential of the cooperative business model, Everything Co-op aims to generate interest in and support for the cooperative movement.
The New Deal Cafe is a cooperative restaurant, music venue and community coffee house operated in the historic Roosevelt Center of Greenbelt, Maryland. It was named in honor of the Works Project Administration, part of Franklin D. Roosevelt's Depression-era New Deal, which built the city of Greenbelt.
This week's live broadcast of Everything Co-op is a great opportunity to stop by to listen and support the New Deal Cafe. The cafe's menu is from food entrepreneurs Michael and Leah Moon, who also run DC Vegan Catering. The Moons believe in attracting people with great-tasting, accessible food that celebrates their Italian-American roots and nurtures the environment, animals, and our health. Michael and Leah have high standards not just for the food they serve; they also believe in fair pay, progressive hiring and business practices, and creating an ethical and inclusive environment.
The New Deal Cafe also offers live music six nights a week in an intimate community atmosphere. This Thursday, the cooperative will host the Greentop Ramblers Celtic Halloween Show from 7:30-9:30 p.m. The Washington City Paper recently recognized the New Deal Cafe in its "Best of D.C. – Readers' Pick" list for "Best Place to Experience Local Music." See the full calendar.
Hosted by Vernon Oakes and conversational in format, the show is streamed live at worldcnews.com every Thursday from 10:30-11:30 a.m. EDT. Everything Co-op also airs live in the Washington, D.C. Metropolitan Area on WOL 1450 AM—Radio One's premiere talk radio station.