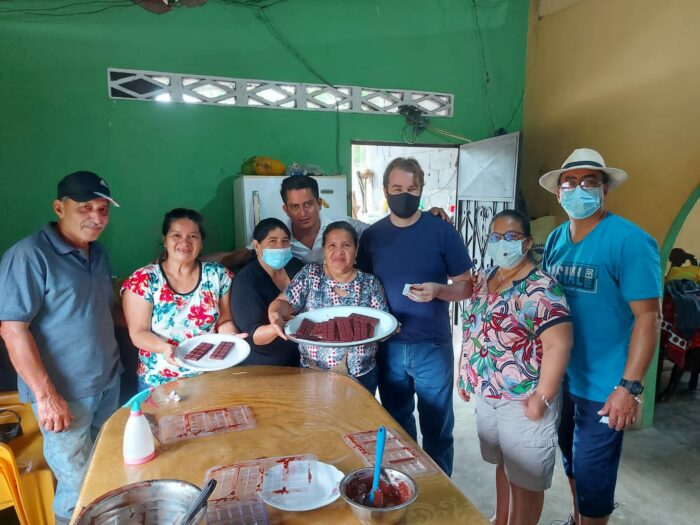 According to the United Nations, micro, small and medium enterprises (MSMEs) are the backbone of countries' economies accounting for more than 50% of the jobs around the world and over 70% of businesses. By this definition, MSMEs include most of the world's food producers and play critical roles in creating employment and economic opportunities. Through the USAID-funded Farmer-to-Farmer Program (F2F), U.S. and local volunteer experts have provided trainings to create stronger value chains, sustainable growth and expand cooperative businesses for MSMEs in the coffee and cocoa value chains. Since 2018, NCBA CLUSA has implemented the F2F program in collaboration with local MSMEs in Ecuador, Peru, Honduras and El Salvador where financial education, marketing, exporting, and business plan assignments have become a priority. 
In Ecuador, NCBA CLUSA's USAID-funded Farmer-to-Farmer program had the pleasure of working alongside Asociacion de Trabajadores Agricolas Luis Vargas Torres to train members on financial planning and cacao formulation. Luis Vargas Torres was formed in 2005 by a small group of cacao growers dedicated to helping their association members gain access to broader markets and negotiate fair prices of their products. After these financial and chocolate formulations assignments with U.S. volunteers, Eric Fox and Thomas Forbes, association members Hilario Barco and Victor Cusco started their own chocolate making businesses. Since then, Hilario and Victor had the opportunity to develop their cocoa powder products and diversify their businesses by producing six different types of chocolate, including chocolate paste, dark chocolate, and chocolate with berry, almond and dried fruit flavors. These business owners buy the product from Luis Vargas Torres and the association receives a fair price to pay to its members. 
Since 2018, the Farmer-to-Farmer program has completed six financial planning, four business planning, 17 marketing strategy, and two exporting assignments to increase businesses and governance for organizations to become more competitive. As part of these objectives, F2F also focuses on environmental assignments that improve productivity and quality of product. Since the severe socioeconomic impacts of the COVID-19 pandemic, MSME resilience and development has become a priority for lasting local growth and increasing the need for diversification of farming. Natural disasters and crises such as the COVID-19 pandemic affect MSMEs in a disproportionate way. According to the International Trade Centre, among businesses in 136 countries, COVID-19 strongly affected nearly 62% of women-led small businesses and led to concerns of business closures all over the world.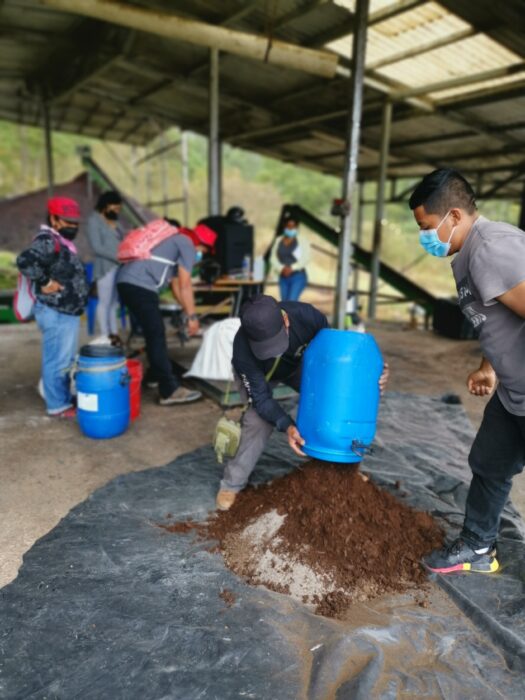 In Honduras, F2F has partnered with Asociación de Productoras Libres de Marcala (APROLMA) which is a woman only organization with the main objective of empowering women in their entrepreneurial efforts and improving the institutional organization and commercial capabilities of members through the production of coffee. F2F volunteer Amanda Rose Newton trained APROLMA in March of 2022 on the production of organic fertilizers. After these trainings, organization member Nidia Vasquez used this new fertilizer preparation on her production of ornamental flowers which increased productivity and quality of her products and consequently allowed her to build an improved irrigation system for continued capacity expansion. By diversifying small businesses, members of APROLMA create a more robust and sustainable business structure that will promote resilience and cooperation in the community.  
To navigate rising inflation, disruptions to supply chains and the climate crisis, it is critical that MSMEs continue to be empowered and supported. Through F2F's demand driven approach, U.S. and local volunteers have collaborated with host organizations and MSMEs in over 30 assignments related to financial and business capacity. MSMEs all over the world will continue to pursue development and growth opportunities as global environmental and political climates continue to change. To contribute to the knowledge transfer by the F2F program, visit our volunteer assignment website and find out how to invest your expertise in small businesses growth.