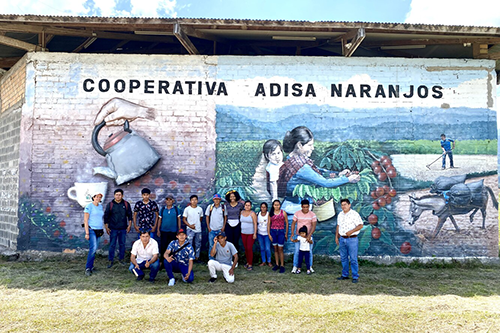 Over the past two weeks, I had the privilege of working with National Cooperative Business Association CLUSA International (NCBA CLUSA) through its Farmer-to-Farmer Program (F2F) in Peru! F2F is a U.S. Agency for International Development (USAID)-funded program that sends skilled volunteers to provide technical assistance to farmers, farm groups, agribusinesses and other agriculture sector institutions in developing and transitional countries to promote sustainable improvements in food security and agricultural processing, production and marketing.
I was assigned to the Cooperativa de Servicios Múltiples (ADISA) located in Naranjos. ADISA is a cooperative of 100+ farmers who grow and produce organic coffee, chocolate and fruits. In my role as a technical specialist I worked with ADISA leadership to understand the needs and challenges of the co-op, and plan and implement tangible solutions.
Increasing Member Participation
ADISA leadership has trouble with their associates actively participating in the co-op, including social participation (helping the co-op achieve its mission and just generally showing up) and economic participation (paying their dues). They expressed that members had difficulty communicating with each other and had an "I vs. them mentality." I planned and led a training for the members to discuss the mission of ADISA and how they can contribute to furthering the mission and work of ADISA, what they need from leadership to feel motivated to actively participate in the co-op, effective communication and communication styles, including verbal and non-verbal communication. We also discussed teamwork and completed activities that focused on communication and support within a team.
The farmers are committed to their agricultural work and in finding new ways to expand and grow their businesses. I asked each farmer what they do for fun, and all but three said their fun is working on their farms or tending to their animals. They are hard workers indeed, and have my respect!
Encouraging Youth Leadership
ADISA leadership also wanted to get the youth more involved in ADISA and their community. I offered up the idea of an ADISA Youth Council and the leadership agreed this could be a great initiative! So, I planned and led a training for the youth to explain and establish the ADISA Youth Council. We discussed the meaning of a Youth Council, roles and responsibilities, the morals and ethics they value, and their passions, all of which were incorporated into a manifesto for the Youth Council, which will guide their work.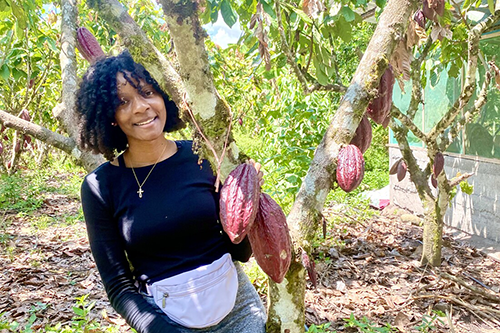 The youth at ADISA are very inquisitive, intelligent and inclusive. They are passionate about their community, agriculture and preserving their environment.
Additionally, I provided ADISA with resources to revise and update their mission, vision and five-year strategic plan. I also drafted an internal policy on membership dues that outlines the importance of dues and consequences for members if dues are not paid. This policy will be reviewed and signed by all members and implemented next year.
During my trip, I also had the opportunity to visit coffee, cacao and fruit farms to learn about how each farmer grows, produces and markets their products. I am very thankful for this opportunity with Farmer-to-Farmer! The people I met and the connections I made are unforgettable.
Naranjos will always have a place in my heart!
Learn more about Farmer-to-Farmer   Find a volunteer opportunity
—Ayona S. Riley is a human rights advocate and a specialist on Central America and international migration. Connect with Ayona on LinkedIn.