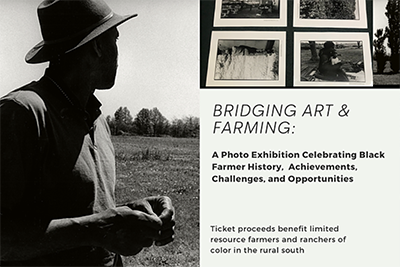 The Federation of Southern Cooperatives/Land Assistance Fund will host an exhibit highlighting the contributions of black farmers, black land ownership, food sovereignty and sustainable farming on April 30 from 6:30-10 pm at Carter Presidential Center in Atlanta, Georgia.
Called "Bridging Art & Farming: A Photo Exhibition Celebrating Black Farmer History, Achievements, Challenges and Opportunities," the event showcases the federation's archive of photos, art and documents collected since its founding in 1967.
Black farmland ownership, which peaked in 1910 at between 16 and 19 million acres, has decreased to less than 3 million acres today. The exhibit will amplify the lives and stories of the families that continue to be keepers of the land and food providers. It also aims to educate a new generation on the contribution of black farmers and ranchers, the importance of land ownership, and the critical role of food sovereignty and sustainable farming.
The evening will include a panel featuring food activists, black farmers and policy thought leaders, a cocktail reception and live music from blues musicians Jock Webb Sr. and Clarence Davis.
Click here to purchase tickets. Proceeds benefit limited-resource farmers and ranchers of color in the rural south.