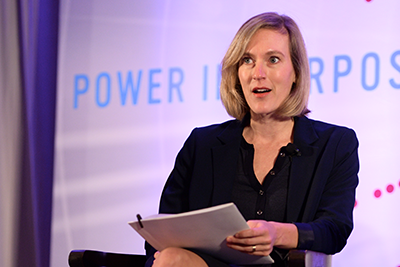 Courtney Berner, Executive Director of the University of Wisconsin Center for Cooperatives, will appear on Everything Co-op on Thursday, January 9. A weekly exploration of the impact and potential of the cooperative business model, Everything Co-op aims to generate interest in and support for the cooperative movement.
Hosted by Vernon Oakes and conversational in format, the show is streamed live at worldcnews.com/listen-live every Thursday from 10:30-11:30 a.m. EDT. Everything Co-op also airs live in the Washington, D.C. Metropolitan Area on WOL 1450 AM—Radio One's premiere talk radio station.
This week, Vernon and Courtney will discuss how the center studies and supports all forms of cooperative enterprise.
Courtney joined the UW Center for Cooperatives in 2011 and served as a cooperative development specialist until assuming the role of executive director in January 2018. Courtney develops research, outreach and education programs on cooperatives and provides support to new and established cooperatives in a wide range of industries. Her areas of expertise include cooperative education, business development, cooperative finance and governance, and innovative uses of the cooperative model.
Courtney also teaches a course on cooperatives at the University of Wisconsin-Madison and loves challenging students to think critically about why co-ops emerge, how they differ from other forms of enterprise, and how the model can be used to address current social and economic issues.
Listen to archived episodes—including NCBA CLUSA's centennial podcast series in partnership with Everything Co-op—at everything.coop.