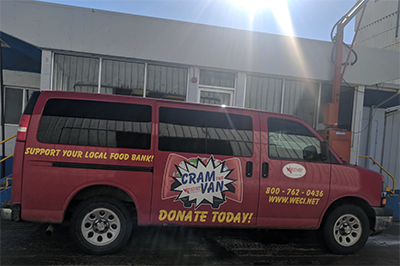 Before Wheatland Electric Cooperative stopped using analog meters, the operations manager hauled the clunky devices in a 2009 Chevrolet Express minivan.
These days, the Scott City, Kansas co-op reads meters remotely, and instead of meters, the 15-passenger van lugs several tons of food to those in need as part of the co-op's "Cram the Van" program, which has collected and delivered 32 tons of groceries to agencies across its service territory over the past five years.
"We've grown each year and want to keep building and enhancing the program each year," said Alli Conine, manager of member services and corporate communications at Wheatland EC. "The food banks really rely on the food that we deliver, and when you walk into a food bank with empty shelves, and then we deliver 5,000-plus pounds of food, it's a great reminder of why we do what we do."
The 32-ton achievement is no small feat, considering donations come over a two-month period from collection drives in the small towns tucked within the co-op's 16-county service territory in western Kansas and eastern Colorado. The co-op collected just over 3 tons of food during Cram the Van's first year and 3.5 tons the following year.
"Some of the events that we do, like in the eastern part of our service territory, Caldwell, is about five hours from Scott City," the co-op's headquarters, said Conine. She estimates the van logs about 3,000 to 4,000 miles during the two-month collection period.
Cram the Van had huge growth in 2016, when the co-op collected nearly 5 tons of food, a 32 percent increase over the previous year. The co-op's new strategy: promoting the drive at fall festivals and sponsoring food collection contests at schools—in addition to the slew of donation bins at district offices and grocery stores.
Right now, students at 15 local schools compete in Cram the Van, and eventually Wheatland EC wants to expand to all 13 school districts in its service area, said Conine.
Kris Fetty, executive director of Hope's Closet and Breadbasket in Scott City, Kansas, welcomes the extra help. Last year's delivery of about 2 tons of food should last until this June. "They're a great help," said Fetty. "Their donations mean we don't have to go out and buy so much."