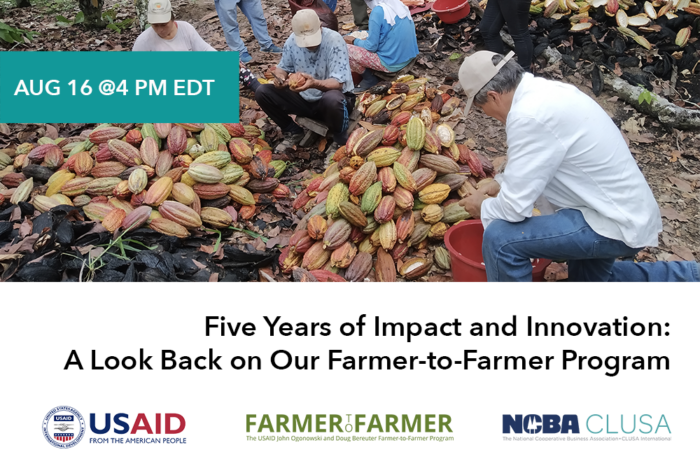 Join NCBA CLUSA's Farmer-to-Farmer (F2F) team on Wednesday, August 16 from 4-5 pm EDT to celebrate the impact of this five-year program funded by the U.S. Agency for International Development (USAID). Farmer-to-Farmer sends highly skilled U.S.-based volunteers on technical assignments to provide hands-on training to communities, cooperatives, agribusinesses and other host organizations wanting to increase sales, improve branding and marketing, or adopt more sustainable farming practices.
Since 2018, NCBA CLUSA's F2F program has worked with host organizations in Peru, Honduras, Ecuador and El Salvador. During this webinar, we'll learn how F2F connects host organizations with the technologies and innovations they need to improve their productivity and competitiveness. We'll hear directly from volunteers and host organizations who will share expertise and lessons learned during their assignments. You'll leave inspired by the smallholder coffee and cacao farmers we work with in Central and South America—and challenged to partner with Farmer-to-Farmer in the future.
This webinar will be conducted in Spanish, with simultaneous English interpretation provided by Tilde Language Justice Cooperative.
Evento de Clausura del programa "De Agricultor a Agricultor"
Cinco años de impacto e innovación: Una mirada retrospectiva a nuestro programa Agricultor a Agricultor en América Central y del Sur.
Únase al equipo de Farmer-to-Farmer (F2F) de NCBA CLUSA, el miércoles 16 de agosto, 2023 a las 3:00 p.m. (Ecuador y Perú); 2:00 p.m. Centroamerica y 4:00 p.m. Washington D.C. para celebrar el impacto de este programa financiado por la Agencia de los Estados Unidos para el Desarrollo Internacional (USAID). Farmer-to-Farmer envía voluntarios estadounidenses altamente cualificados en asignaciones técnicas para proporcionar capacitación práctica a comunidades, cooperativas, agroindustrias y otras organizaciones de productores anfitrionas que desean aumentar las ventas, mejorar su marca y comercialización, o adoptar prácticas agrícolas más sostenibles.
Desde 2018, el programa F2F de NCBA CLUSA ha trabajado con más de organizaciones anfitrionas en Perú, Honduras, Ecuador y El Salvador. Durante este seminario web, aprenderemos cómo F2F conecta a las organizaciones anfitrionas con las tecnologías e innovaciones que necesitan para mejorar su productividad y competitividad. Escucharemos directamente a las organizaciones anfitrionas y voluntarios, que compartirán su experiencia y las lecciones aprendidas durante las asignaciones. Estará inspirado por los pequeños productores de café y cacao con los que trabajamos en América Central y del Sur, y animado a colaborar con Farmer-to-Farmer en el futuro.
Este seminario web se llevará a cabo en español, con interpretación simultánea al inglés proporcionada por la Cooperativa de Justicia Lingüística Tilde.