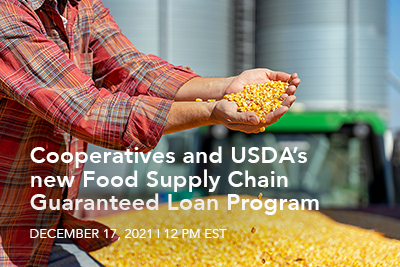 Join NCBA CLUSA and the U.S. Department of Agriculture (USDA) on Friday, December 17 at 12 pm EST to learn about USDA's new Food Supply Chain Guaranteed Loan Program. Cooperatives are eligible to participate in the program and funds may be used in both rural and urban areas.
The Food Supply Chain Guaranteed Loan Program is a part of USDA's Build Back Better initiative to strengthen critical supply chains and our food system. This program guarantees loans of up to $40 million for qualified lenders to finance food systems projects, specifically for the start-up or expansion of activities in the middle of the food supply chain. The program will support new investments in infrastructure for food aggregation, processing, manufacturing, storage, transportation, wholesaling and distribution to increase capacity and create a more resilient, diverse and secure U.S. food supply chain.
During this webinar, you'll learn how cooperatives can benefit from this program and have the opportunity to ask questions directly to USDA staff.