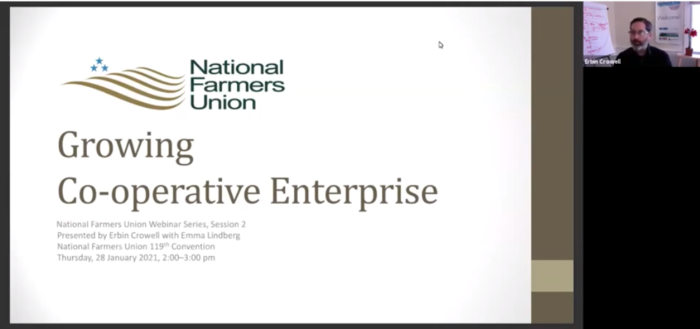 Cooperative enterprise has a lot to offer as we work to rebuild our communities in the midst of a pandemic, a devastated economy, and persistent inequality.
How can co-ops help us build more resilient economies, sustain local businesses, and retain jobs? What are some of the different types of cooperatives? How can co-ops work together to build a stronger, more sustainable economy? What are the basics of starting a cooperative or converting an existing business to worker ownership? Where can I find help if I want to launch a co-op in my community? These are some of the questions addressed in a recent webinar presented by the National Farmers Union and featuring Erbin Crowell, Executive Director of the Neighboring Food Co-op Association and chair of NCBA CLUSA's Board of Directors.
This webinar is part of a series hosted by fellow NCBA CLUSA Board member Emma Lindberg, Education Director at the National Farmers Union. The series is part of the lead-up to NFU's 119th Anniversary Convention. In the "Growing Cooperative Enterprise" webinar, Crowell discussed history, the basics of co-op identity and the cooperative business model, how co-ops can be more relevant today, and how to grow cooperative enterprise. This webinar series serves as great refreshers for seasoned cooperators or as an introduction for colleagues or others who are new to the model.
Fully virtual, the National Farmers Union's 119th Anniversary Convention began January 28 and runs through March 2. In addition to being hosted online, the event will be structured a bit differently than in years past. Instead of holding all the educational events, panel discussions, breakout discussions and policy deliberations within a few days, convention content will be split up into several separate sessions taking place over the course of a month.
Every week through February 26, National Farmers Union will feature a series of education sessions. Then, on March 1 and 2, convention delegates will have an opportunity to discuss, amend and adopt the organization's policy positions and priorities. This process will stream live on National Farmers Union's Facebook page for all non-delegates to watch. The livestream will also include remarks from Members of Congress and the administration, award presentations, the State of the Farmers Union speech and other convention staples.