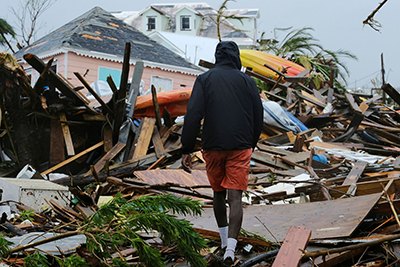 Last week, the Bahamas was hit by the strongest known storm in the islands' history. While the category 5 storm has moved on, the Bahamian people have just begun the process of rebuilding their communities.
With damage to 90-100 percent of businesses and homes on the islands of Grand Bahama and Abaco, the Bahamas are in need of immediate and long term relief. While national and local organizations focus on providing storm survivors with immediate access to food, water, medical care and shelter, the Cooperative Development Foundation's Disaster Recovery Fund helps local cooperatives get back on their feet after disasters.
Help Bahamian co-ops get back to business with a donation to the CDF Disaster Recovery Fund.
How You Can Help

The cooperative community not only focuses on economic growth and equality but also provides support through times of success and times of crisis. CDF has pledged to donate funds to help cooperatives affected by Hurricane Dorian rebuild and thrive once again. Join us in making an impact in the lives of those affected by making a donation to the Disaster Recovery Fund today.
CDF will coordinate with local organizations on the islands to get assistance to cooperatives in need. One hundred percent of the donations to the Disaster Recovery Fund go to disaster recovery. CDF does not use disaster recovery funds to pay for any of its operating expenses or fund administrative costs.
If you prefer to write a check, you can send your donation to the Cooperative Development Foundation and 1775 Eye St NW, 8th Floor, Washington, DC, 20006. Please note that your donation is for Hurricane Disaster Recovery.
Donations to CDF may be tax-deductible. Donors who pledge $25 or more will receive a letter of acknowledgement that can be used for tax records.