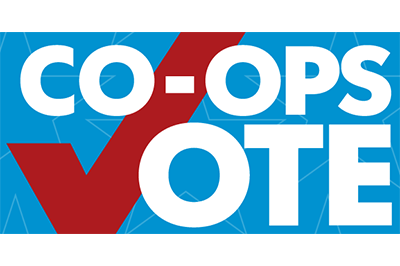 With local elections taking place next month, NCBA CLUSA is partnering with America's Electric Cooperatives' non-partisan Co-ops Vote campaign to register voters. You can help by hosting a voter registration drive at your cooperative on Tuesday, September 24—this year's National Voter Registration Day.
Every year, millions of eligible voters are unable to cast a ballot because of a missed registration deadline, outdated registration information, or other problems with their voter registration. You can help make sure your co-op and community members don't get shut out of the electoral process.
To host a local voter registration drive and receive free event stickers and posters, fill out this form by September 12, and be sure to choose "Co-op" on the organization drop-down list. If you register after September 12, you will need to print your own event materials.
Democratic Member Control is one of the 7 Cooperative Principles at the heart of every co-op, and Co-ops Vote is an opportunity to put that principle into action. As a non-partisan campaign, Co-ops Vote does not support any one party or candidate; rather, it seeks to encourage robust democratic participation by cooperative members and their communities.
If you can't commit to hosting a voter registration drive, you can still help by:
Adding a link to vote.coop on your website
Sharing the campaign on social media and in any employee or member communications (see the Communications Toolkit)
Need more information? Reach out to Laura Vogel at Laura.Vogel@nreca.coop or (703) 907-5717.