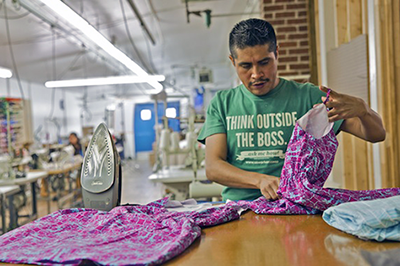 The worker-owned cooperative Opportunity Threads is retooling its production to sew masks and other personal protective equipment (PPE) for the caregivers at Cooperative Home Care Associates.
Many of Opportunity Threads' manufacturing partners are working to produce masks at or below cost and floating costs to get products produced and distributed quickly, founder Molly Hemstreet said in a blog post published by the U.S. Federation of Worker Cooperatives.
At cost, a mask sewn by Opportunity Threads costs $2.25. For a donation of $13.50, Opportunity Threads can produce a pack of washable, reusable masks that will protect a caregiver for a month, said Adria Powell, president and CEO of Cooperative Home Care Associates.
Please mark your donation "cooperative home care worker support." All proceeds will go directly to PPE supplies for the homecare co-op community.
Without this protective equipment, caregivers must limit their client contact to providing services at a distance like house cleaning and cooking.
During a conversation organized by the Cooperative Development Foundation's Homecare Cooperative Initiative earlier today, caregivers agreed that they don't have the proper protection to be coming in close contact with clients right now. Participants on the call also shared the creative and innovative ways they are navigating the realities of the COVID-19 pandemic.
Opportunity Threads and its cooperative network The Carolina Textile District is also working to centralize supply chains and create open source patterns. If you are a manufacturer willing to help produce PPE, click here. If you are a homecare cooperative, medical provider or care facility in need of PPE, click here.
How is your co-op supporting its community during this time? We would love to amplify your story in Co-op Weekly. Email us at info@ncba.coop and let us know how you're putting Co-op Principles 6 and 7 into practice!