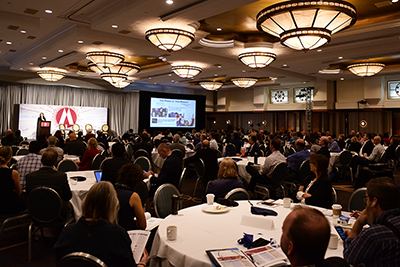 NCBA CLUSA is seeking proposals for conference sessions and panels through March 15 for the 2020 Cooperative IMPACT Conference. This is your opportunity to be an integral part of the only national, cross-sector event for co-op developers, business executives, financers, policymakers, legal professionals and thought leaders.
This year's conference will amplify how cooperatives are addressing their obligation to create diverse, equitable and inclusive workplaces and boards, and how cooperatives can better meet the needs of communities that have been excluded from participation and economic advancement.
Please carefully read the Call for Proposals before submitting a session. All proposals for IMPACT 2020 must be submitted electronically via the form on this page.
Scheduled for October 7-9 at the Marriott Metro Center in Washington, DC, IMPACT 2020 will bring together hundreds of cooperative leaders, developers, professionals, academics and policymakers—all with the overarching goal to advance the shared interests of the cooperative ecosystem.
To ensure full and fair consideration, proposals will be evaluated and selected by NCBA CLUSA based on criteria that include relevance, clarity, innovation, application, format and program balance. Applicants will be notified of selection decisions by email no later than April 1, 2020
If selected, your photo, biography, presentation title, session description and learning objectives will be published on the IMPACT Conference website and used in marketing materials.