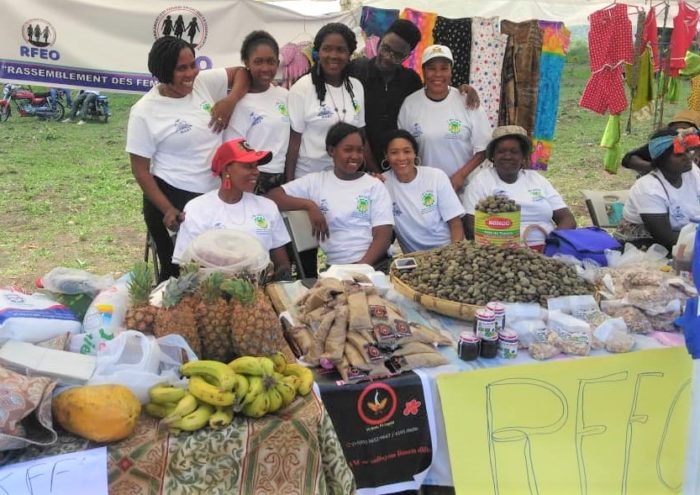 Only about 20 percent of startups globally are women-led. Because inequality does not have to remain the status quo, NCBA CLUSA is joining the Cooperative Development Foundation (CDF) to launch the International Women-led Enterprise Fund. As change agents, we aim to break barriers, promote equal opportunity and upward mobility to maximize the potential of women and their communities. Our first pilot will benefit the Women's Advocacy Network of Ouanaminthe (Rassemblement des Femmes Engagées de Ouanaminthe / RFEO), a Haitian small business and social enterprise with 300 women members.
RFEO advocates for women's rights and creates economic growth opportunities for women. RFEO gives women entrepreneurs access to affordable credit to support their businesses and to help them during family emergencies. Your donation will help RFEO scale its impact to:
Amplify RFEO's gender-based violence advocacy.

According to Le Nouvelliste, Haiti's oldest and largest daily newspaper, between March 30th and May 15, 2020, RFEO's support units for distressed women reported 23 cases of violence, at least 13% of which were rape cases. RFEO has been leading a targeted gender-sensitive COVID-19 prevention campaign while advocating against the increased of domestic violence against women with support from the Centre for International Studies and Cooperation, and the Embassy of Canada in Haiti.

Enhance economic power, which reduces their dependency on spouses.
Expand women-led enterprises in cashew, honey, and moringa.
Increase school enrollment for their children.
Improve the economic well-being of their families.
Financially, your donation will help RFEO's members to:
Increase production of craft honey mead by 25%.
Increase annual production of cashew praline by 55%.
Increase production of roasted cashew by over 50%.
Scale production of dry cashew kernels by 35%.
RFEO is involved in the storage, processing and marketing of moringa, cashew nuts and honey. The social enterprise sources raw materials from local cashew farmers and beekeepers. RFEO creates value-added products such as honey, mead, roasted cashew, dried cashew to sell in local markets and in the Dominican Republic through the binational market of Dajàbon, and farmer's markets.
As with many small businesses, RFEO faces financial obstacles in its quest to empower women and victims of gender-based violence through entrepreneurship. Limited access to credit and lack of cash-flow are just two of the problems facing RFEO. Your support can help RFEO remove some of these obstacles and the post-pandemic economic shock.
—
Your donation to the International Women-led Enterprise Fund's pilot will be allocated to the Women's Advocacy Network of Ouanaminthe (Rassemblement des Femmes Engagées de Ouanaminthe / RFEO), a social enterprise located in Haiti. CDF provided fiscal sponsorship to this campaign. All donations will go to RFEO as a Cooperative Development Foundation grant (a U.S. public charity). Subject to applicable law, donations may be tax-deductible. This campaign's pilot project  is restricted to supporting RFEO's enterprise development fund and your donation is made for the support of the above described project. NCBA CLUSA provided technical support to RFEO for this campaign.