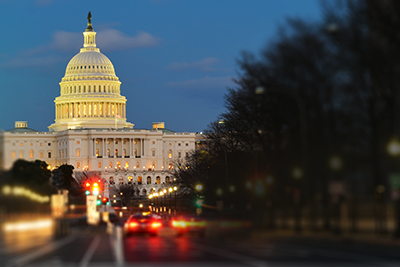 Late Friday, the U.S. House of Representatives passed the HEROES Act, the latest piece of emergency economic recovery legislation designed to help people, businesses and communities respond to the impacts of COVID-19.
This legislation makes important reforms to the newly established Paycheck Protection Program to expand eligibility to housing cooperatives and all non-profits, including electric cooperatives. Paycheck Protection Program (PPP) loans are issued through private lenders and 100 percent guaranteed by the U.S. Small Business Administration (SBA) to help keep workers on payroll and cover fixed operating costs. Borrowers can apply for forgiveness of PPP loans through their lender if they meet certain criteria.
NCBA CLUSA president and CEO Doug O'Brien recognized the leadership from the House Small Business Committee, with jurisdiction over the U.S. Small Business Administration. "We thank Chairwoman Nydia Velázquez and her dedicated staff who have led the effort to ensure cooperatives have equal access to Small Business Administration programs during this extraordinary time," O'Brien said. "This is an important step to ensure that co-ops can continue to provide essential services to their communities."
Ensuring the eligibility of housing cooperatives for the Paycheck Protection Program has received strong support from the New York congressional delegation, including a letter led by Reps. Grace Meng and Thomas R. Suozzi. Senate Democratic Leader, Sen. Chuck Schumer, also has an extensive record supporting the eligibility of housing cooperatives in federal programs, and the response to COVID-19 is no exception.
Notably, the HEROES Act also extends the covered period of the Paycheck Protection Program to December 31, 2020. This bill carves out PPP funds for: businesses with 10 or fewer employees, non-profits, Community Development Financial Institutions, microlenders, and Certified Development Companies. The act also establishes technical assistance grants for certain small lending institutions. A section-by-section summary of the HEROES Act prepared by the House Majority staff is available here.
While this legislation is still under consideration in Congress, electric co-ops received much-needed certainty this week in an Interim Final Rule issued by the SBA. The rule makes clear electric cooperatives are eligible borrowers under the Paycheck Protection Program.
The published rule—available here—comes after support from a broad, bipartisan coalition in both chambers. Sens. John Hoeven (R-ND) and Tina Smith (D-MN) led a group of 42 senators in a letter requesting clear guidance that electric co-ops are eligible for the Paycheck Protection Program. In the House of Representatives, two members of the Congressional Cooperative Business Caucus—Reps. Ron Kind (D-WI) and Jackie Walorski (R-IN)—led a companion letter signed by 160 House colleagues, including Caucus co-chairs Reps. Mark Pocan (D-WI) and Jim Baird (R-IN).
NCBA CLUSA continues to work with cooperative allies on Capitol Hill to ensure that cooperatives are eligible for federal programs supporting businesses in response to COVID-19 and urging legislators to look to cooperatives to help communities recover from the pandemic's impacts. View co-op resources and NCBA CLUSA actions here: https://ncbaclusa.coop/covid-19-resources.