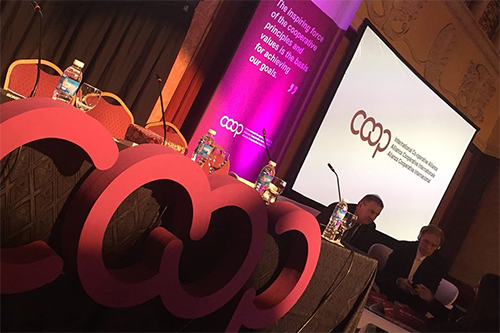 An international fund of $250,000 for projects by young cooperators has been announced by the International Co-operative Alliance (ICA). The move was approved at the ICA's General Assembly in Buenos Aires, Argentina, on October 21, with the money for the fund being granted out of the proceeds of the three International Co-operative Summits led by Monique Leroux, former president of Desjardins and of the ICA.
Leroux, by video link from Canada, described the fund as a program that could support a range of youth initiatives over a five year period.
Sebastien Chaillou, president of the Network of Young Co-operators and a board member of the ICA, hopes that the fund will "help us to create bridges between young people and cooperatives."
The General Assembly, which took place in advance of a five day summit of co-ops from across the Americas region, was well attended, with 143 members recorded as present.
Delegates at the Assembly heard from Ariel Guarco, ICA president, who reported the organization's work over the past twelve months, including a well-received survey of members earlier in the year that will guide the forward strategy of the organization, which will be developed over 2019. The finances of the ICA were in a positive state, with a welcome surplus over the financial year.
Bruno Roelants, ICA director general, reported that 18 large cooperatives were taking part in a new think tank run by the organization, to focus on matters such as advocacy and technology.
A new website for the ICA was also unveiled by Ben Reid, an elected member of the ICA board nominated by Midcounties Co-op and Co-operatives UK, and chair of the ICA Communications Committee. The site is designed to support work across the different organizations of the ICA at the sectoral and regional levels.
Two new regional presidents for the ICA were confirmed. Japheth Magomere was welcomed as the new president for ICA Africa, replacing a much-loved figure within the movement, Stanley Muchiri, who died recently and had been president of ICA Africa since 2003. Subject to her election by regional members, Graciela Fernandez will take up the position of president of ICA Americas.
Amongst an active member debate on priorities, Nick Crofts, president of the UK's Co-op Group National Members' Council, was applauded for questioning the decision on grounds of gender inequality to run all-male panels on two of the three sessions of the Assembly.
It was also announced that the 2019 General Assembly will he held in Kigali, Rwanda from October 12-18, 2019 and also that negotiations are underway for the event to take place in Seoul in 2020, with a special program to host the 125th anniversary of the ICA in the form of a World Co-operative Congress.