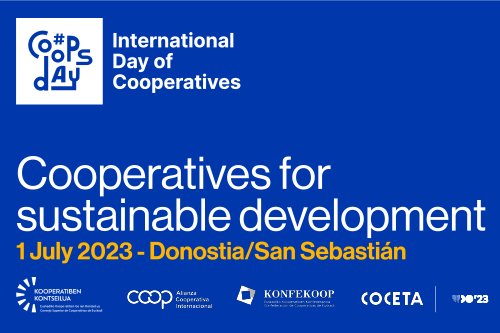 To celebrate International Day of Cooperatives next month, the International Cooperative Alliance (ICA) is hosting a one-day conference to show how co-ops are the best tool we have for building a sustainable future.
Under the theme "Cooperatives for Sustainable Development," more than a billion cooperators worldwide will celebrate International Day of Cooperatives on July 1, 2023—a day that has raised awareness of the cooperative business model for a century and was officially recognized by the United Nations in 1995.
The Cooperative for Sustainable Development conference will take place in-person on July 1 at 11 am CET in San Sebastián City Hall in Donostia, Spain with online broadcasts available in English, Spanish and Basque. The dynamic event will showcase co-op stories from around the world and feature six roundtables discussing how cooperatives impact the UN's 17 Sustainable Development Goals (SDGs).
Register now   Check out the agenda
The event coincides with Spain's presidency of the European Union, which also begins on July 1. The Cooperatives for Sustainable Development conference was organized by ICA in partnership with the Higher Council of Cooperatives of the Basque Country and ICA members Konfekoop and Coceta, and is part of events surrounding the Donostia-San Sebastián Social Economy Capital of Spain 2023.