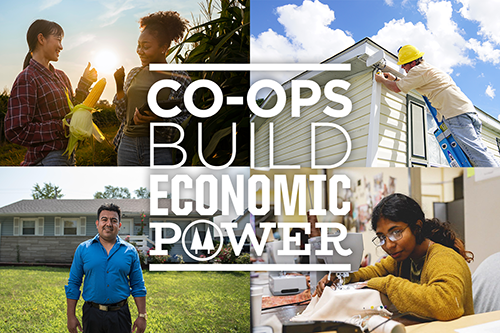 Celebrated by cooperatives nationwide during the month of October, National Co-op Month is an annual opportunity to raise awareness of a trusted, proven way to do business and build resilient, inclusive communities.
Under the theme "Co-ops Build Economic Power," this year's Co-op Month is also a chance to lift up the cooperative business model as the best way to build an economy that empowers everyone.
As businesses face inflation and supply chain challenges, cooperatives provide stability and opportunity. As employees question their role in the economy, cooperatives are creating dignified, empowering jobs with paths to ownership and wealth-building. As communities tire of rhetoric, cooperatives are creating the meaningful diversity and equity at the heart of an inclusive economy.
Cooperatives nationwide are encouraged to use this year's theme and logo in their communication and outreach activities this October. Resources for the 2022 Co-op Month are hosted by NCBA CLUSA at coopmonth.coop.