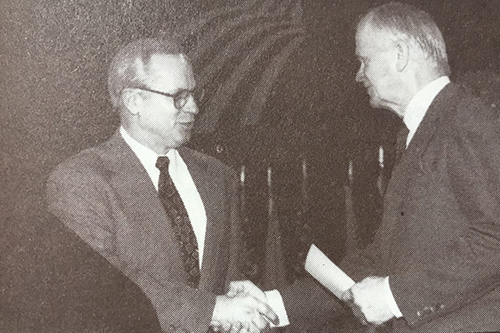 Bob Bergland, a former U.S. secretary of agriculture, congressman and head of the National Rural Electric Cooperative Association (NRECA), died December 9 in his hometown of Roseau, Minnesota, his family said in published reports. Bergland, 90, will be remembered as a stalwart for a strong rural America.
"We are deeply saddened to learn of the passing of Bob Bergland," said NRECA CEO Jim Matheson. "Bob distinguished himself throughout his career as a strong and thoughtful leader who understood the importance of a strong rural America. Our thoughts and prayers are with his family."
Bergland served as executive vice president and general manager of NRECA from 1984 until his retirement in 1994, when he and his wife, Helen, returned to their wheat farm just south of the Canadian border to be closer to their family.
During his tenure at NRECA, Bergland oversaw significant milestones: the creation of Cooperative Benefit Administrators in 1984, the National Rural Telecommunications Cooperative in 1986, the National Economic Developers Association in 1989, Homestead Funds in 1990 and congressional adoption of the Rural Utilities Service, successor to the Rural Electrification Administration, in 1994.
Bergland was inducted into the Cooperative Hall of Fame in 1994 and received the Clyde Ellis Award, the highest honor bestowed on an individual by America's electric cooperatives.
He encouraged co-op programs to improve the efficiency and environmental qualities of consumer-member homes.
"The main objective is to take the lead in solving environmental problems by showing that electricity is an important part of the solution," Bergland wrote to electric co-ops in 1993. "A number of benefits will be seen for our industry, but one of the most important is that we will increase the desirability of electricity for our consumers."
When President Bill Clinton unveiled deficit reduction plans that would eliminate low-interest loans for electric co-ops through the Rural Electrification Administration, Bergland urged lawmakers to oppose the unfair impact it would have on co-op members. REA loans helped "overcome the obstacles of distance and terrain, which drive up the cost of electric power, resulting all too often in the higher rates paid by rural consumers."
While representing Minnesota's 7th Congressional District from 1971 to 1977, Bergland became known as a leader for rural America and is credited with shepherding the Farm Act of 1977 to passage.
That same year, President Jimmy Carter nominated Bergland to head the Department of Agriculture, where he pursued programs for rural development that emphasized the role electric co-ops played in improving communities and people's lives.
In his farewell address at NRECA's 52nd Annual Meeting in New Orleans in 1994, Bergland predicted the broadening mission of electric co-ops as "old-time REA champions retired," but said the motivations of co-ops would remain "family, church, community, honesty, integrity, caring."
"Those are the things you do every day," Bergland said. "And those are the reasons why I've enjoyed this job enormously."