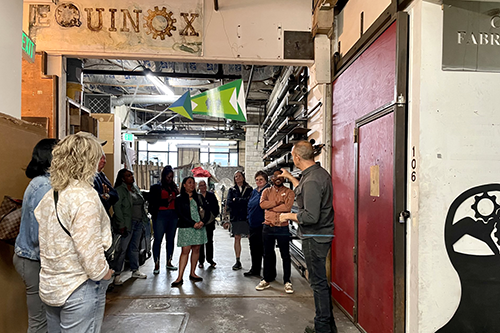 Earlier this summer, NCBA CLUSA's Board of Directors headed to Washington state for our quarterly board meeting—my last as chair of the association's board. It has been my pleasure to serve NCBA CLUSA and the wider cooperative movement in this capacity, and I look forward to supporting our new board chair, Esteban Kelly. Esteban is a visionary leader and longtime advocate for the cooperative and solidarity economy movements and, as executive director of the U.S. Federation of Worker Cooperatives, heads up the fastest-growing co-op sector in the country.
In reflecting on my two years as board chair, I'd like to take this opportunity to share some insights into the board's recent work with our members and stakeholders. But first, I want to thank Debbie Wege, another fellow NCBA CLUSA board member, for graciously hosting our board at BECU Headquarters in Tukwila, Washington.
Established in 1935 by 18 Boeing employees, the credit union's first $2.50 loan went to a fellow employee to purchase the tools they needed to start work at Boeing. Today, with nearly 1.4 million members and $28.8 billion in assets, BECU is the largest not-for-profit credit union in Washington state and one of the top four financial cooperatives in the country. As BECU's Cooperative Community Advocate, Debbie champions the co-op business model and finds thoughtful and creative ways for members to engage in work around the co-op principles.
Seattle-area co-op tours
While in the Seattle area, directors connected with local cooperators and stakeholders to participate in co-op tours and attend a Principle 6 (P6) Symposium. At Seattle Wholesale Growers Market, General Manager Brad Siebe shared the co-op's mission to create a sustainable living for its Pacific Northwest member farms by promoting their seasonal flowers and foliage to the broader floral industry. Next, we headed to Equinox Studios, a thriving community of 175+ visual and performance artists working out of several World War II-era warehouses in Seattle's Georgetown neighborhood. After facing bureaucratic hurdles trying to incorporate as a cooperative, Equinox landed on a nonprofit model. Project visionary Sam Farrazaino and board members discussed what financial and policy avenues are—or should—be available for artists and social entrepreneurs who want to form a cooperative.
Cooperation among cooperatives
Tuesday afternoon, we were inspired by the Pacific Northwest P6 Symposium. Organized by regional co-op leaders with support from NCBA CLUSA's P6 Initiative, the meeting explored how cooperatives in the Pacific Northwest are working together to grow their co-ops and increase community impact. For example, PCC Community Markets, the nation's largest food cooperative with multiple stores in the Seattle area, has partnered with BECU to cross-promote each other's activities and encourage new membership in both organizations. We also heard from REI Co-op on their journey to express the co-op identity as a way to distinguish the outdoor recreational store from its major competitors. The group of approximately 60 cooperative leaders from the greater Seattle region also explored ways they work together in more robust ways to increase their collective community impact and improve their businesses.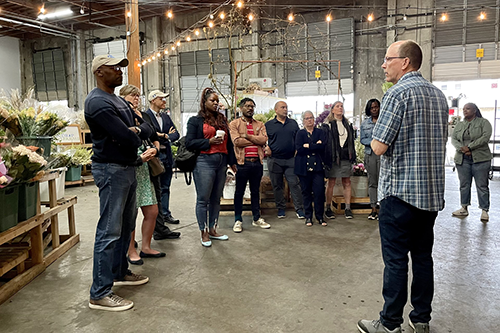 Experiencing first-hand what cross-sector P6 work looks like informed the board's discussion the next day as we considered the future of NCBA CLUSA's P6 Initiative. Launched in 2021, this initiative identified local, regional and national opportunities for cooperatives to work together across sectors, acting on the 6th Cooperative Principle, or "cooperation among cooperatives." Board members considered ways the P6 Initiative could evolve in the future, including new in-person and virtual networking opportunities, a co-op directory and a procurement strategy that prefers cooperative businesses. NCBA CLUSA will also continue its Co-op Executive Roundtable series, which brings together thought leaders and innovators from some of the nation's largest and most influential cooperatives.
Partnerships and investments
At the board meeting, we also heard updates on NCBA CLUSA's partnerships and investments, including DotCoop and Cooperative Business International (CBI) Global. In 2000, NCBA CLUSA proposed a distinctive .coop domain cooperatives could use to elevate their identity as co-ops online. Today, as a 50% owner of DotCoop, we continue to support digital identity services for the global co-op community. Our investment in CBI Global, a global leader for sustainable agribusiness, continues as well. NCBA CLUSA owns 10% of CBI, Inc. A pioneer and early advocate of Corporate Social Responsibility (CSR) and Environmental, Social and Corporate Governance (ESG), CBI's business practices are rooted in agricultural sustainability. Through partnerships with hundreds of thousands of smallholder coffee and spice producers, primarily in Southeast Asia, CBI sources the highest quality products for leading retailers within the food and beverage space like Starbucks and McCormick.
Advancing Diversity, Equity and Inclusion
We concluded our June board meeting with a report on NCBA CLUSA's Diversity, Equity and Inclusion (DEI) work and the association's continued work with our members. The board considered how to build on the foundation of work since its 2019 resolution seeking to ensure greater understanding and expression of DEI in the Cooperative Identity. Since then, NCBA CLUSA has brought together a cohort of cooperative leaders for two years of intense learning and action. We produced a comprehensive white paper on how co-ops can measure DEI, surveyed and reported on DEI practices in the cooperative community, and published a policy paper with recommendations on how to create a policy ecosystem for more people to use cooperatives to build a more inclusive economy. The board discussed how DEI is integral to the association's development, advocacy, membership and public awareness work. I am confident that this work will continue under Esteban's leadership, and that our association will continue to thrive in the years ahead.
—Carla Decker is president and CEO of SkyPoint Federal Credit Union and immediate past chair of NCBA CLUSA's Board of Directors.