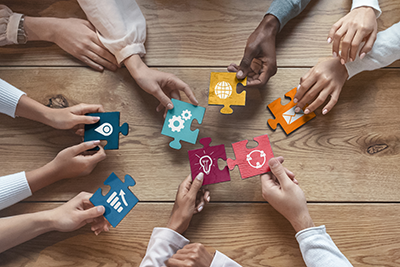 This week's issue of the Principle 6 Newsletter, republished below, is guest authored by Leo Sammallahti and was first published on Chip Filson's blog, Just a Member. Leo writes from Finland, where 90 percent of the population belongs to a cooperative.
In it, he explores ways credit unions could use Principle 6 to demonstrate their cooperative difference."If we are not carrying on [Edward] Filene's distinctive civic tradition of helping start new co-ops, who is?" he asks.
Read the full issue of Principle 6 Newsletter below. And while you're thinking about "cooperation among cooperatives," take a moment to consider how you and your cooperative practice this principle. NCBA CLUSA is on a mission to document Principle 6 collaborations across the country so we can identify trends, document best practices and share this knowledge with you—our fellow cooperators!
Share your example of Principle 6
Principle 6 Newsletter – Underwriting Cooperative Designs
Issue 12 – December 21, 2020
The list of the top 100 U.S. cooperatives by total revenue lists only five credit unions. 
Do you know the co-ops operating in your communities? How are credit unions supporting cooperative solutions—especially with needed, local startups? 
A proposal from Finland where 90 percent of the population belongs to a co-op
It would be fair to say that the American credit union movement was born from a unique way that Edward Filene did charity. He helped reduce obstacles people face when they try to help themselves by setting up cooperatives. As it became harder and more expensive to start new credit unions, this tradition started to fade away. It could be more complex for credit unions to help people set up cooperatives, other than credit unions, because it requires different expertise. But I hope credit unions would ask themselves, "If we are not carrying on Filene's distinctive civic tradition of helping start new co-ops, who is?"
It's common for credit unions to donate to food banks and other local charitable efforts.
What if some of those donations would be used to give food cooperative coupons/vouchers to credit union members who are struggling economically? Ideally the food cooperative would also provide opportunities to get further discounts by volunteering to help run the business, as is common in grocery co-ops.
I think many would find this sort of mutual self-help more dignifying than being given food from a food bank—not that there should be a stigma in doing so. Perhaps especially men who are reluctant to get assistance would find this psychologically more helpful. Abstract models of comparing the logistical cost-effectiveness of providing food through food banks or food cooperatives can't capture this difference. But can credit unions?
It could be used to demonstrate the cooperative difference of credit unions in a way no advertising campaign could. The Open Your Eyes campaign remaining budget was $50 million. What if there was an equally large campaign, where 5 million credit union members would use a $10 coupon in a new cooperative business?
It doesn't have to be limited to food cooperatives either. Maybe a couple who open up a joint-account could be given a pair of movie tickets that could be used in a local cooperative cinema. The possibilities are endless.
By Leo Sammallahti