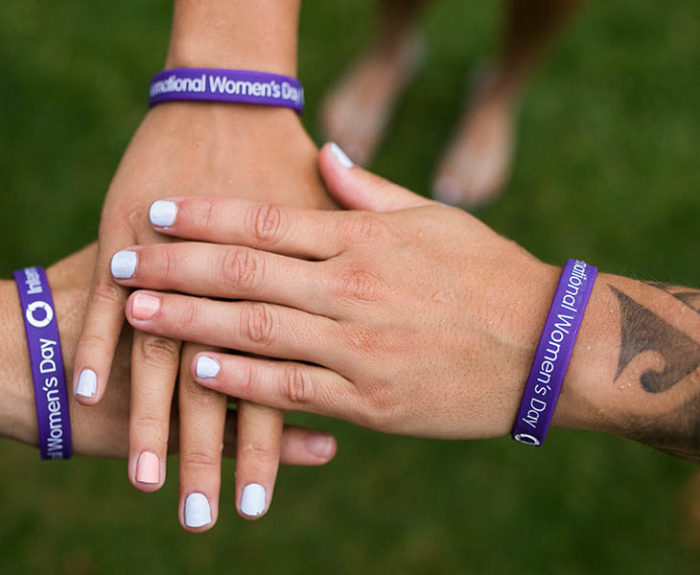 This year's theme for International Women's Day is "Choose to Challenge," a call for us to challenge all forms of inequity. Today, as NCBA CLUSA staff around the world join the international community in celebrating International Women's Day, we highlight some of our work to promote women's empowerment and gender equality.
One of the ways NCBA CLUSA chooses to challenge gender inequity is by exploring the opportunities and barriers for women to participate in a more inclusive economy through cooperatives. As part of the United States Agency for International Development (USAID)'s Cooperative Development Program, NCBA CLUSA was awarded the Creating an Environment for Cooperative Expansion (CECE) Project. The project uses a systems approach to work with local governments, cooperative development organizations, private sector partners, and other stakeholder to improve the cooperative enabling environment, enhance support to cooperatives, and improve cooperative business performance. CECE operates in Guatemala, Kenya, Peru, Madagascar, and Tanzania.
To explore and better understand the opportunities and challenges that women in cooperatives face, including women's under-representation in agricultural cooperatives as both members and leaders, CECE conducted a cooperative-level gender analysis based on surveys with cooperative members. Survey results, which will inform the project's gender action plan, pointed to an array of barriers, but also to many opportunities to support and leverage the cooperative principles to promote gender equality.
Barriers to women's participation, leadership, and inclusion in cooperatives
At the cooperative level, barriers identified included misperceptions about the extent to which gender equity has been achieved.  Preferences given to women in participation, leadership and other activities were cited, and gender quotas, the existence of women's committees and women holding leadership positions were referenced. Some survey respondents misconstrued the presence of these initiatives in their cooperatives as indicating that their cooperatives have achieved gender equity. Additionally, in some countries, perceptions among cooperative sector stakeholders of affirmative action measures did not hold up with any government mandates or policies.
[It's important to] convince women that they can be independent in their business dealings with the cooperative. – Cooperative member, Madagascar
Another major barrier for women's participation was related to cooperative membership eligibility requirements, including those that require members to maintain certain levels of production, own productive assets and land, and pay high membership fees. Social-cultural barriers were also cited, including traditional gender roles, norms and stereotypes; women's double burden of paid and unpaid work; discrimination against women; and lack of support from male partners.
Opportunities to support women's participation in cooperatives
Cooperative members surveyed mentioned different ways in which their cooperatives are working towards gender equality and shared ideas to advance this work.  One of the key strategies cited was building knowledge and skills in technical areas, business management, and cooperative governance, as well as investing in women's leadership skills. Most members were supportive of training on gender equality. Respondents also highlighted the importance of providing members, especially women members, learning opportunities via networking, exchange visits, and mentoring programs. Another opportunity mentioned to support women's participation was through strengthening women's committees to establish and manage new business activities, as well as ensuring oversight of existing policies on equity and non-discrimination among members. Access to finance, diversification in production and value chains, and marketing skills were also referenced as essential components of women's economic empowerment through cooperatives.
Opportunities to increase women's membership in cooperatives
Survey respondents also weighed in on ways that their cooperative or cooperatives in general could promote women's membership.  At the top of this list was conducting outreach and recruitment campaigns to reach new women members.  Respondents also stated that women's committees could be engaged to support recruitment efforts.  Many respondents also understood the importance of wider community-level dialogue about women's rights and economic empowerment to support efforts within a cooperative or simply to address household-level dynamics, which prohibit some women from joining a cooperative.  Creating incentives for women to join and incentivizing cooperatives to be more inclusive of women were other strategies cited. The modification of bylaws, such as having lower membership fees, was also mentioned as a potential solution.     
[We can] encourage women to join cooperatives, so that they can access both social and economic opportunities. – Cooperative member, Tanzania
The cooperative principles include having a strong foundation in democratic control, open membership, and concern for community, principles that embrace engaging women as equal members in economic initiatives and working to improve work conditions for all.  These principles aim to address both the social and economic needs of those who choose to be members of cooperatives.  Whether cooperatives can do more to promote gender equality directly depends on what members define as the scope of their cooperatives' mandate in relation to these issues and whether the benefits that may result contribute to the greater goal of the cooperative.  Through cooperatives, the potential is there. Is the challenge accepted?