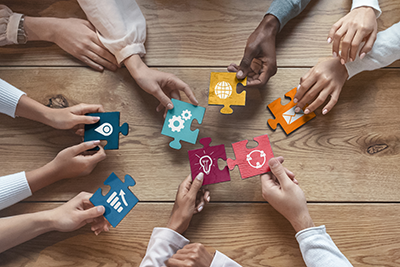 As NCBA CLUSA continues to feature thoughtful commentary, analysis and opinion from relevant cooperative researchers, practitioners and thought leaders in Co-op Weekly, our goal is not only to provide a platform for important ideas, but also to further our mission of developing, advancing and protecting cooperative enterprise. In that work, we strive to highlight a diversity of voices to create the most effective, equitable and resilient 21st century cooperative movement possible. The views expressed do not necessarily reflect the views of NCBA CLUSA or its broader membership.
This week, we're amplifying a newsletter series currently published by Mike Mercer, former President and CEO of Georgia Credit Union Affiliates and a 2020 inductee to the Cooperative Hall of Fame. In the first issue of the Principle 6 Newsletter, republished with permission below, Mike reflects on the cooperative business model and what Principle 6, or "Cooperation Among Cooperatives," means to the credit union industry.
"At a time when consumers are looking for alternatives to Wall Street and Washington, I worry that credit unions leaders under-appreciate the strategic differentiation power of the cooperative business model," he writes. While acknowledging that achieving a Rochdale-level of "purity" may not be realistic, Mike urges all cooperatives—especially credit unions—to embrace their unique business model as "an indispensable asset."
Read the full issue of Principle 6 Newsletter below. And while you're thinking about "cooperation among cooperatives," take a moment to consider how you and your cooperative practice this principle. NCBA CLUSA is on a mission to document Principle 6 collaborations across the country so we can identify trends, document best practices and share this knowledge with you—our fellow cooperators!
Share your example of Principle 6
Principle 6 Newsletter
Issue 1 – July 15, 2020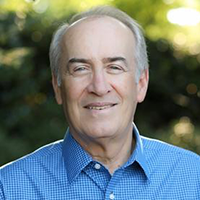 General Douglas MacArthur said, "Old soldiers never die, they just fade away." Maybe. Mostly. But not Keith Richards. Not Pat Jury. Not me. Not yet!
It's been six months since I held a day job in the CUNA-League system… the largest amalgam of cooperation-causing organizations in the American credit union sector. Six months is a lot of thinking time. Add in a pandemic, economic chaos, societal tension and a cancelled Stones tour…plan A was to join a survivalist commune in the hills above San Diego.
Plan B (the road I'm traveling) is to apply myself to a couple of significant issues that I think need more attention…probably from all of us. They are:
Respect & Appreciation for the Cooperative Business Model
Over the decades, credit unions have modified their self-concept from being part of a purpose-driven social movement to something more akin to being participants in a confederation of increasingly independent and competitive financial institutions. At a time when consumers are looking for alternatives to Wall Street and Washington, I worry that credit union leaders under-appreciate the strategic differentiation power of the cooperative business model. We can't (won't) go back to the purity of the Rochdale weavers. Cooperatives must innovate to thrive, including with their structures. How can/should leaders forge thinking in a way that credit unions regard the cooperative business model as an indispensable asset?
Extending the Sixth Cooperative Principle
From those weavers…principle #6 speaks to "Cooperation Among Cooperatives." Credit unions have a long history of cooperation within their own tribe. But, there are cooperative (and co-op-like) organizations in virtually every sector of the economy. From my work with National Cooperative Bank (NCB) and international learning journeys, it has become obvious that U.S. credit unions are not sufficiently engaged with the other co-op sectors. And, truth be told, their willingness to cooperate with each other could probably stand some improvement. I hope to be involved with initiatives that bring CUs into better cooperation, especially with the non-CU cooperative sectors. Working together, co-ops could significantly impact local economic well-being. Thanks in no small part to coordination among co-ops, unemployment is considerably lower in northern Spain and the Emilia Romagna region of Italy.
So…
I plan to start writing about these topics and others. I know, What a surprise!
There are many things that could have profound impact on CUs and their support organizations in the years ahead. For example, the increasing tension between the haves and have-nots is finding its language in the framework of wealth and income disparity. There are other forms of societal polarization, but this one could have lasting importance to cooperative organizations, including (maybe especially) credit unions. Co-ops can lead on the path to diversity, equity & inclusion. The digital transformation and the related evolution of work have significant implications for credit unions. I may not be able to help wandering into these areas now and again.
But, mostly I will focus on the co-op business model and principle #6 in what I write.
I plan to send what comes off the fingertips to you and others in the business of crafting thought around 'big-picture' credit union/co-op issues. Not too long and not too often (I'm thinking twice a month). If you want to 'opt out' of my clutter, just let me know. If you want to opt out without hurting my feelings, just have IT direct the emails to spam! And, Scott Sullivan, if you want to cut and paste these utterances into your League letter, go ahead.
If you're up for a little thought provocation, maybe this little letter will light a fire or two. If so, I'd love to hear what you think…and, I'd be happy to share a constructive additional/alternative point of view with the other recipients. And, if you could use a hand in advancing these issues in your corner of the cooperative world, give me a call. I am organizing my effort in an LLC that I'll call COOPR8 Consulting.
Beyond this letter, I know not where opportunity leads.
For now, keep doing good things…
More soon,
Mike Mercer