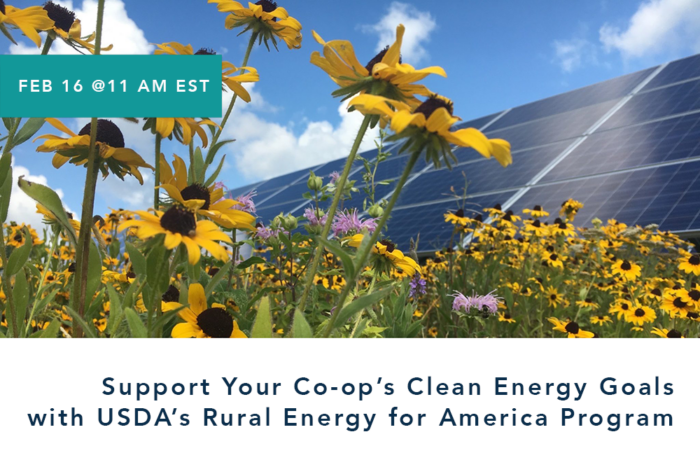 Join NCBA CLUSA and U.S. Department of Agriculture (USDA) staff on Thursday, February 16 to hear about new funding for co-ops through USDA's Rural Energy for America Program (REAP). Find out whether your cooperative is eligible ahead of the March 31 application deadline.
This program spurs climate action by providing guaranteed loan financing and grant funding to help cooperatives, agricultural producers and other small businesses in Rural America invest in renewable energy or energy efficient infrastructure. Funds may be used for renewable energy systems including wind, solar and hydropower generation; or to purchase and install energy efficiency improvements such as insulation, high-efficiency HVAC systems, lighting, or doors and windows.
In one example, PKM Electric Cooperative in Minnesota used $89,958 in REAP funds to replace old security lighting with LED lighting across their service area—a project they anticipate will save close to $50,000 every year in energy costs.
USDA's Rural Energy for America Program reflects the goals of the Biden-Harris Administration's Inflation Reduction Act. Representing the largest investment in climate and energy programs in U.S. history, the IRA provided a roadmap to reduce energy costs for Americans while creating jobs for people across rural America. It provides more than $40 billion to USDA, including an additional $2 billion over five years specifically for the Rural Energy for America Program (REAP).