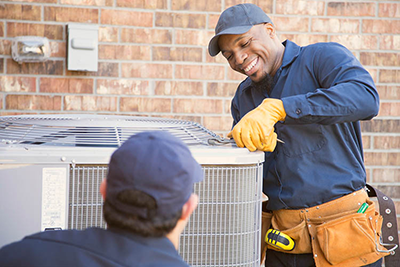 Last month, more than 100 representatives from rural electric cooperatives in North Carolina gathered in Raleigh to discuss how they could help their members save energy by using more electricity. While that might not sound like an obvious solution, this idea is at the heart of "beneficial electrification"—a concept that many electric co-ops are excited about.
Beneficial electrification (or "strategic electrification") refers to replacing equipment that directly burns fossil fuels with equipment that uses electricity—with the caveat that it saves the customer money and reduces overall emissions. One of the most common examples is to switch to an electric vehicle (EV) from a gasoline-fueled vehicle. EVs are price-competitive with other new cars, typically cost the equivalent of less than $1 per gallon to refuel, and result in fewer emissions even when the electricity comes from a coal-heavy fuel mix.
The meeting in Raleigh, however, did not focus on electric vehicles. Instead, speakers and attendees looked at beneficial electrification options across multiple sectors, including building space and water heating, agriculture, and commercial applications. Several speakers highlighted that one of the biggest beneficial electrification wins for residential customers is to replace aging furnaces and water heaters fueled by propane or fuel oil with high efficiency heat pumps technology. The question for co-ops is how to best educate and incentivize their members to make the switch, especially when upfront costs may be higher and require several years of fuel savings to offset.
At the close of the meeting, Curtis Wynn, CEO of Roanoke Electric in North Carolina and president of the National Rural Electric Cooperative Association (NRECA)'s Board of Directors, compared beneficial electrification to the rural electrification efforts of the 1930s. "We once again have the opportunity to improve quality of life for all consumers," he said.
These discussions are not just happening in North Carolina. In 2018, electric co-ops from around the country unanimously approved a resolution supporting beneficial electrification programs at NRECA's annual meeting. The first of the statewide co-op beneficial electrification meetings took place in Minnesota in late 2018. Colorado and Wisconsin electric co-ops will hold their events on June 12 and 27, respectively. Iowa and Indiana electric co-ops are planning their events for the fall.
Other electric co-ops are already rolling out programs. Orcas Power & Light in Washington launched its "Switch It Up!" program in April to provide its members with tariffed-based on-bill financing for new ductless heat pumps, electric water heaters, and Level 2 EV charging stations. The program has already funded or is currently developing more than $500,000 of beneficial electrification projects. The program is being financed with a no-interest $5.8 million loan from the U.S. Department of Agriculture's Rural Energy Savings Program (RESP), which is accepting new applications through September 30.
A group of nonprofits recently released a report, Equitable Beneficial Electrification for Rural Electric Cooperatives: Electrifying Residential Space and Water Heating in the Midwest. The report was collaboratively produced by the Environmental and Energy Study Institute, the Groundwork Center for Resilient Communities, Iowa Policy Project, Midwest Energy Efficiency Alliance, RE-AMP Network, and We Own It. The report examines beneficial electrification as a pathway for rural electric co-ops in the Midwest and elsewhere to serve their members, grow their business, and reduce overall emissions. The report's authors joined with co-op leaders embracing electrification to discuss the issue on a May 20 webinar.
Interested in applying for a RESP loan? EESI has been providing no-cost assistance to rural electric co-ops to access clean energy savings since 2010. Learn how you can benefit from EESI assistance here and read about the RESP loan application process here.