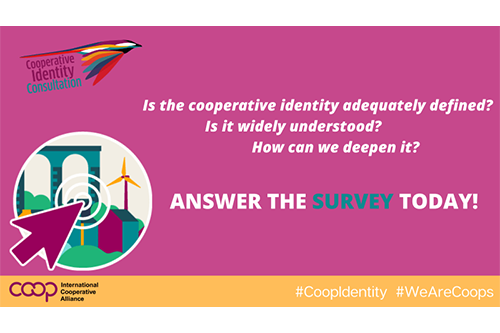 The International Cooperative Alliance (ICA) is seeking first thoughts from cooperators all around the world on how well the Statement on the Cooperative Identity is defined and understood.
The participation of the global cooperative community in efforts to deepen our shared identity is vital. To assist the work of the Cooperative Identity Advisory Group, cooperatives everywhere in the world, their members and employees, and all other persons familiar with cooperatives are invited to complete this short survey. Please take a few minutes of your time to complete the survey and share this link with others.
Participation will be greater if we can share the survey in multiple languages. If your organization is able to translate and disseminate it in one or more languages spoken in your country, ICA will provide the necessary documents and guidelines concerning translation. Please email Amanda Risfa at risfa@ica.coop if you can help translate.
The survey is currently available in ICA's three working languages (English, French and Spanish) and members are adapting it into Japanese, Nepalese and Greek, coming soon.
Take the survey in English     Responde en español     Répondre en français