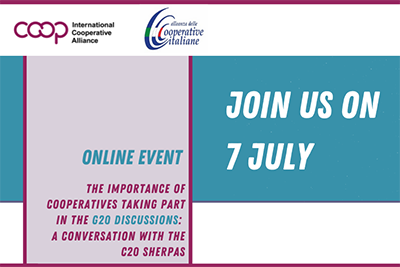 Join the International Cooperative Alliance (ICA) in collaboration with the Italian Cooperative Alliance on Wednesday, July 7 at 2 p.m. in Brussels (8 a.m. EDT) to discuss the importance of cooperative engagement in the G20, the international forum that brings together the world's major economies.
During this meeting, ICA members from Africa, the Americas, Asia-Pacific and Europe will share examples of the social and economic impact cooperatives have in their respective regions and discuss ways to amplify that impact ahead of this year's G20 Summit in Rome in October.
The meeting is also an opportunity to engage with Italian C20 Sherpas Riccardo Moro and Valeria Emmi on the importance of cooperatives taking part in G20 discussions. C20, or Civil 20, is one of the official Engagement Groups of the G20. It provides a platform for civil society organizations from all over the world, including cooperatives, to participate in G20 discussions.
International Cooperative Alliance has been participating in C20 and other G20 Engagement Groups since 2014, having representatives in the task forces and contributing actively to the discussions and preparation of documents.