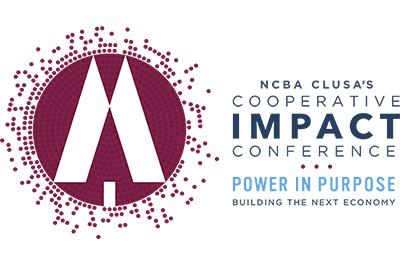 Early-bird for this year's Co-op IMPACT Conference might be over, but we're still honoring our reduced conference rate when you sign up as a new NCBA CLUSA Individual Member in 2019.
Choose "Early-Bird Registration (BECOME A MEMBER AND SAVE)" for $775 during registration and save $200 when you register by midnight on August 31. This ticket will increase to $975 on September 1.
By becoming an NCBA CLUSA Individual Member, you join the only cross-sector cooperative network elevating the national conversation around a trusted, proven way to do business and build communities.
NCBA CLUSA's Co-op IMPACT Conference is the only national cross-sector event for co-op developers, business executives, financers, policymakers, legal professionals and thought leaders. This year's theme, "Power in Purpose: Building the Next Economy" highlights how co-ops—as principled, purpose-driven businesses—are building a stable, sustainable economic future.
Register now to help us build the next economy!
THANK YOU TO OUR IMPACT 2019 SPONSORS