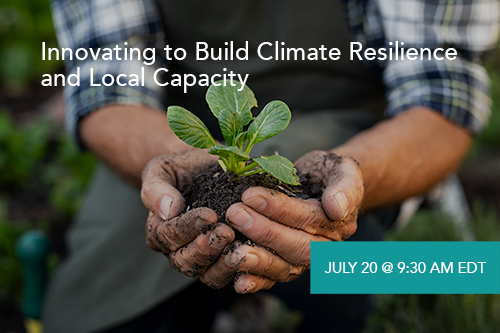 Join NCBA CLUSA on Wednesday, July 20 from 9:30 am-10:45 am EDT for a webinar focusing on environmental sustainability and innovations.
Environmental impact remains a primary concern to farmers and conservation practitioners around the world. The magnitude of agricultural and population growth impacts on the environment drives a desire to innovate and implement science-based technical solutions focused on water, environment and resource management. Changes in climate, increased waste production, and increasing food system risks have resulted in an active effort to support critical biodiversity conservation, create new economic opportunities, and empower local communities.
During this webinar, we'll highlight successes from Tetra Tech, Agriculture Innovation Mission for Climate (AIM for Climate/AIM4C) and NCBA CLUSA in sustainable sourcing, land management, biodiversity conservation and climate-smart agriculture. These organizations, as well as many others, lead efforts to enhance local capacity in countries such as Ecuador, Peru, Honduras, Madagascar and many others. Implementation of sustainable supply chains, farming practices and use of science-based technical tools are just a few of the ways these organizations, and many others, are reducing our global ecological footprint while addressing resiliency and enhancing capacity building.
Following our panel discussion, moderated by Ann Vaughan, Senior Advisor, Climate Change, Bureau for Resilience and Food Security, USAID, we look forward to your participation in our audience Q&A.
MEET THE SPEAKERS
Ann Vaughan
Senior Advisor for Climate Change
Bureau for Resilience and Food Security, USAID
Francisco Donoso
Country Director, Ecuador
USAID Farmer-to-Farmer Program, NCBA CLUSA
Joanna Durbin, PhD
Chief of Party
Debaranjan Pujahari
Principal, head of Agriculture Practice