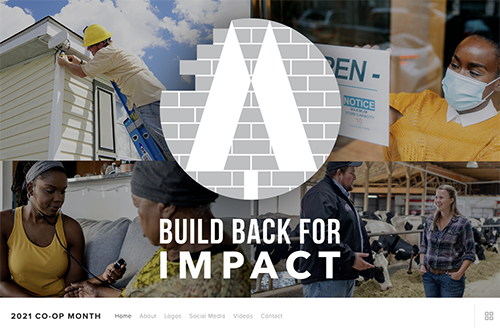 Celebrated by cooperatives nationwide during the month of October, National Co-op Month is an annual opportunity to raise awareness of a trusted, proven way to do business and build communities.
Every year, NCBA CLUSA produces a theme and logo for Co-op Month, encouraging co-ops across the country to use these resources in their communication and outreach activities throughout October. This year we're inviting you to be part of the planning process! Join us on Friday, August 5 from 1-2 pm EDT to consider potential Co-op Month themes, and share your own ideas.
Last year, under the theme "Build Back for Impact," we leveraged our shared cooperative identity in the face of some truly generational challenges: a global pandemic, climate emergency and systemic racism. In building back an economy that works for everyone, we recognized that our biggest impact comes from embracing our values and principles.
This year, we're excited to hear about the topics you find inspiring. What aspects of cooperation are resonating with you right now? What theme do you think the cooperative movement should rally around in October? Come brainstorm with us on Friday!
About Co-op Circle Happy Hour
Each Friday, we enjoy great conversation and new connections with cooperators on NCBA CLUSA's Co-op Circle platform. Come introduce yourself, mix and mingle with other NCBA CLUSA members and get plugged into our online community.
To join this week's happy hour, log into your Circle account and navigate to the "Events" tab.
Haven't joined the Co-op Circle yet? Click here to request an invite, and be on the lookout for an intro email from NCBA CLUSA's Membership Team.